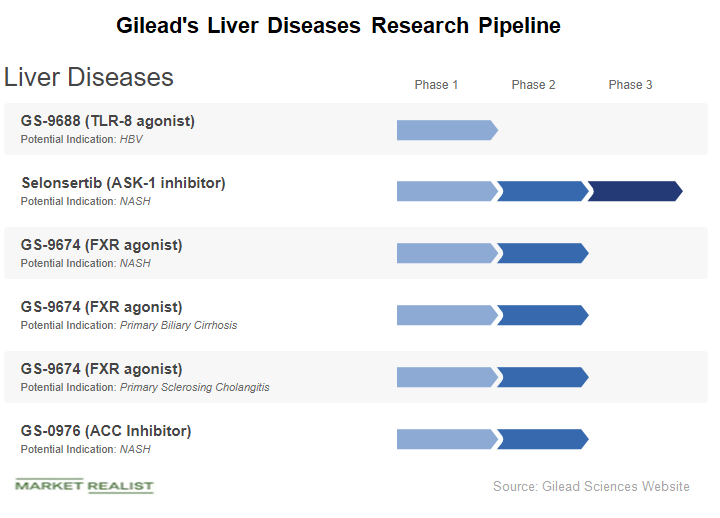 Recent Key Developments in Gilead's HIV, Liver, and Oncology Programs
By Kenneth Smith

Aug. 7 2018, Updated 7:31 a.m. ET
HIV and liver disease programs
During the second quarter, Gilead Sciences (GILD) reported significant developments in its programs addressing HIV, liver disease, oncology and cell therapy, and inflammation.
In the second quarter, Gilead's Biktarvy was granted marketing authorization by the European Commission for treating HIV-1 infection. Under a research collaboration and licensing agreement with Hookipa Biotech AG, Gilead was granted the exclusive rights to Hookipa's TheraT and Vaxwave arenavirus vector-based technologies for HBV and HIV.
The China Drug Administration approved Epclusa for treating adults with genotype 1-6 HCV infection and Epclusa in combination with ribavirin for treating adults with HCV and decompensated cirrhosis.
Article continues below advertisement
At the International Liver Congress 2018, Gilead presented results from a proof-of-concept study of investigational combination therapies combining selonsertib with GS-0976 or GS-9674 for treating patients with nonalcoholic steatohepatitis (or NASH). This is a subtype of nonalcoholic fatty liver disease.
In the study, the therapies were well tolerated and showed additional benefits such as reduced liver fat content as well as less liver cell injury and fibrosis. Gilead has begun a larger Phase 2b study in 350 patients with advanced fibrosis due to NASH for combinations of selonsertib, GS-0976, or GS-9674.
Oncology and cell therapy programs
Gilead's marketing authorization application for Yescarta for treating adult patients with relapsed or refractory diffuse large B-cell lymphoma, as well as primary mediastinal large B-cell lymphoma after two or more lines of systemic therapy, received a positive opinion from the European Medicines Agency's Committee for Medicinal Products for Human Use.
Additional data from the ZUMA-1 study of Yescarta in adult patients suffering from B-cell lymphoma demonstrated that rates of progression-free survival might be predicted from the response status. Also, the treatment responses were consistent across prior lines of therapy.
In the final part of this series, we'll take a look at Gilead's inflammation program and the company's valuation metrics.