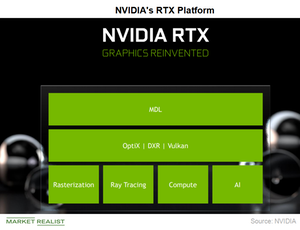 NVIDIA Puts Hardware and Software in Place to Boost Ray Tracing
By Puja Tayal

Aug. 23 2018, Updated 7:31 a.m. ET
Connection technologies in NVIDIA's GeForce RTX 20 series
NVIDIA (NVDA) has plugged several innovations into its GeForce RTX 20 series, from processing capabilities to memory. The company has also updated the new GPUs' (graphics processing unit) connection technologies to make them ready for the next level of display.
The GeForce RTX 2080 and 2080 Ti will use the new USB-C based VirtualLink port, which combines all video, audio, and bandwidth connections needed for a VR (virtual reality) headset. This standard was developed by a consortium of VR headset players, including NVIDIA, Advanced Micro Devices, Microsoft (MSFT), and Oculus.
The above two GPUs use HDMI 2.0b and DisplayPort 1.4, which can power 4K G-Sync HDR (high dynamic range) monitors. Until now, only the GTX 1080 Ti could run these HDR monitors, which cost $2,000.
Article continues below advertisement
For the first time, NVIDIA brought its NVLink Interface, which it only uses in high-performance data center GPUs, to the consumer grade GeForce RTX 2080 and 2080 Ti GPUs. These RTX cards would require the movement of huge data sets at a faster rate, and NVLink offers just that with a bandwidth capacity far larger than the standard SLI (Scalable Link Interface). NVLink can support only two GPUs at a time using an adapter that costs $79.
NVIDIA builds an ecosystem for ray tracing
While NVIDIA has designed the Turing architecture to provide the right hardware for real-time ray tracing, it has developed the RTX platform to provide the right software for ray tracing. It has collaborated with Microsoft's DirectX Raytracing API (application process interface) to bring ray tracing to gaming.
Because NVIDIA is still far from ray tracing entire scenes, it uses a combination of ray tracing and rasterization to enable game developers to create more immersive experiences.
Now that NVIDIA has the hardware and software in place, the next step is to have existing games support the RTX upgrade. We'll look into how it will do this next.