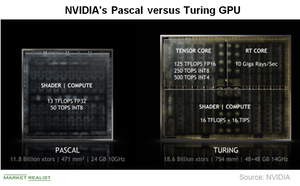 Nvidia Beats AMD Once Again with Its New Turing GPU
By Puja Tayal

Updated
GPU war heats up
After a year of silence, the GPU (graphics processing unit) war is once again heating up with Advanced Micro Devices (AMD) and Nvidia (NVDA) announcing their new workstation GPUs at SIGGRAPH 2018. Nvidia is a leader in the discrete GPU market because of its advanced technology. AMD has managed to reduce the technology gap with Nvidia, but the gap still exists, which enables Nvidia to command a premium price for its advanced products.
Article continues below advertisement
Nvidia's next-generation Turing GPU on the Quadro platform
At SIGGRAPH 2018, Nvidia unveiled its most-awaited next-generation GPU architecture: the Turing on Quadro platform for professional visualization. Nvidia's Turing houses many innovations, including tensor cores for deep learning. AMD plans to bring some accelerators for deep learning tasks in its 7 nm (nanometer) Vega GPU, which is expected to be released in 2019.
One of the biggest innovations in Nvidia's Turing GPU is RT cores, which can deliver real-time ray-tracing at 10 GigaRays per second, which is 25 times faster than Pascal. However, AMD has no dedicated accelerators for ray tracing.
AMD's new Radeon Pro WX 8200 GPU is competitive with Nvidia's two-year-old Pascal GPU. Without ray tracing, AMD would once again lag behind Nvidia in terms of technology.
Nvidia is set to release its Quadro RTX 8000, 6000, and 5000 GPUs by the end of 2018 in the price range of $2,300–$10,000. That gives AMD a buffer of one quarter to maximize its sales from the new Radeon Pro WX 8200 GPU priced at $999.
Nvidia's new gaming GPU 
Nvidia is also focusing on gaming GPUs. It released its new gaming GPU, the GeForce RTX 2080, at the Gamescom 2018 event in Germany. The RTX name signifies that the gaming GPU would have ray tracing capabilities like its Quadro RTX series.
Amid all this, Intel (INTC) is gradually building momentum in the GPU market. We'll look at that next.
Check out all the data we've added to our quote pages. Now you can get a valuation snapshot, earnings and revenue estimates, and historical data, as well as dividend information. Take a look!