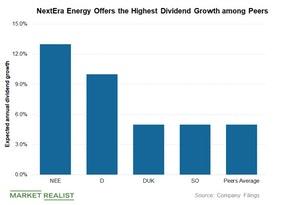 NextEra Energy Has Highest Dividend Growth among Utility Giants
Expected dividend growth
NextEra Energy (NEE), the biggest utility by market capitalization, expects its per-share dividends to grow 12%–14% per year, at least through 2020. Its higher expected earnings growth is expected to drive significant dividend growth going forward. Its targeted dividend growth is the highest among the top utilities and more than double utilities (XLU) at large.
Article continues below advertisement
Dividends for its peers
Its peer Dominion Energy (D) is one of the fastest-growing utilities in the sector. It aims to raise its per-share dividends 8% per year for the next few years. It increased its dividends more than 7% compounded annually in the last five years.
Duke Energy (DUK), the second-largest utility by market capitalization, significantly lagged behind its peers in terms of dividend growth. In the last five years, its per-share dividends increased 2.9% compounded annually, while Southern Company's (SO) dividend growth in the same period came in at ~3.4%. Both are targeting a dividend growth of 4%–6% for the next few years, which is in line with the industry average.