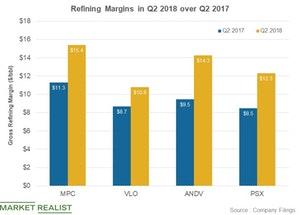 MPC, VLO, ANDV, PSX: Who Has the Highest Refining Margin?
By Maitali Ramkumar

Aug. 14 2018, Updated 8:01 a.m. ET
Refining margins in Q2 2018
In this part, we'll look at the gross refining margins (or GRM) of leading American downstream companies. Marathon Petroleum (MPC) had the highest gross refining margin in Q2 2018, followed by Andeavor (ANDV), Phillips 66 (PSX), and Valero Energy (VLO). The refining companies' GRM rose in Q2 2018 over Q2 2017. Let's delve deeper into individual refiners' margin performance.
Article continues below advertisement
Marathon Petroleum's refining margin expanded
MPC's gross refining and marketing margin rose by $4.1 per barrel over Q2 2017 to $15.4 per barrel in Q2 2018. The rise was majorly due to wider Midwest and USGC cracks (on a net of renewable identification numbers basis) and broader oil spreads.
Valero's refining margin expands in Q2 2018
Valero's gross refining margin expanded from $8.7 per barrel in Q2 2017 to $10.8 per barrel in Q2 2018. In Q2 2018, VLO's diesel cracks surged across its operating zones in the US Gulf Coast, the US West Coast, the US Midcontinent, and the North Atlantic. Also, oil spreads have widened across the board. However, the benefits derived from higher diesel cracks and oil spreads were partly offset by lower gasoline cracks.
Article continues below advertisement
Andeavor's gross refining margin surges
Andeavor's (ANDV) gross refining margin rose by $4.8 per barrel YoY to $14.3 per barrel in Q2 2018. ANDV's refining margin rose across its Inland (North Dakota, Utah, Minnesota, New Mexico, and Texas), Pacific Northwest (Washington and Alaska), and California (Martinez and Los Angeles) regions.
PSX's refining margin rises
PSX's worldwide refining margin rose by $3.8 per barrel, or 45% YoY, to $12.3 per barrel in Q2 2018. This was due to an across-the-board rise in regional margins. The Central Corridor region saw the highest increase of $7.6 per barrel, or 76% YoY, in Q2 2018.