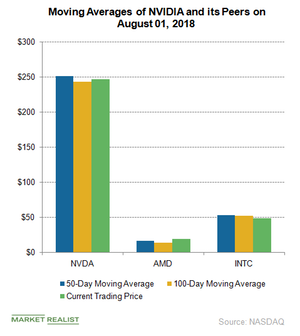 Moving Averages: AMD, NVDA, INTC Stocks in Different Directions
Technical analysis
Nvidia (NVDA) stock has been outperforming the market and its rivals for the last three years. However, its growth slowed down in 2018 as investors reacted to various news reports. Nvidia's lack of a new product launch for gaming, its core market, is making investors anxious.
In the previous part of this series, we saw that Nvidia stock underperformed the semiconductor industry in the last three months. But its strong technical indicators show that investors are still optimistic about the stock.
Article continues below advertisement
Nvidia's moving averages
In technical analysis, short-term and long-term MAs (moving averages) play key roles. When a short-term MA is higher than a long-term MA, it shows technical strength and indicates positive investor sentiment.
Nvidia's 50-day MA is greater than its 100-day MA, which is greater than its 200-day MA. That shows overall technical strength for the stock. However, the stock fell to $247.40 on August 1, which was below its 50-day MA of $252. That shows that investors are reacting to news reports, which have disturbed its short-term prices. The stock's overall price momentum is still on the upside.
Intel's and AMD's moving averages
For Intel (INTC), the situation is not so good. The stock slipped below its 200-day MA of $51 after the resignation of its CEO Brian Krzanich in June. The 200-day MA acts as a stock's resistance. When the stock falls below that level, it raises an alarm that the stock is set to fall more.
On the other hand, there is a strong upward movement for Advanced Micro Devices (AMD). The stock reached a new 52-week high at the end of July when it reported its fiscal Q2 2018 earnings.
All three rival stocks are moving in different directions as investors react to company-specific factors.
Next, we'll look at investor sentiment for these three stocks.