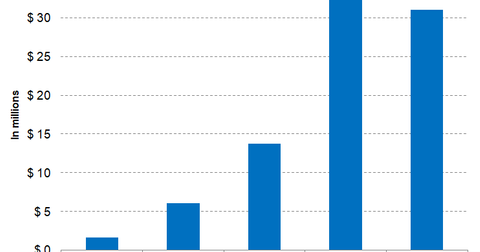 Major Collaborations Bode Well for Editas Medicine
By Kenneth Smith

Updated
Collaboration with Juno Therapeutics
In May 2018, Editas Medicine (EDIT) and Juno Therapeutics amended and restated their 2015 collaboration and license agreement. This collaboration is focused on researching and developing engineered T cells with chimeric antigen receptors (or CARs) and T cell receptors (or TCRs) that are genetically modified to kill other cells. Under the amendment, the number of research areas increased to four from three.
Article continues below advertisement
Allergan Pharmaceuticals' strategic alliance
Editas Medicine entered a strategic alliance and option agreement with Allergan Pharmaceuticals in March 2017 for discovering, developing, and commercializing new gene editing products targeted at ocular diseases. Over a research term of seven years, the latter will have an exclusive option to license up to five collaboration development programs from the former, which also included Editas's Leber Congenital Amaurosis type 10 (or LCA10) program.
In July 2018, Allergan exercised this option and paid Editas $15 million in consideration. Editas exercised its US profit sharing option under which both the companies will share profits and losses equally in the US for this program and will co-develop it in the US. Editas is also eligible for $25 million in milestone payments contingent upon the IND application for EDIT-101 receiving clearance.
Beam Therapeutics
Editas entered a license agreement with Beam Therapeutics to develop precision genetic medicines by using Base editing technology in May 2018. Under the agreement, the former granted the latter a worldwide, exclusive, sublicensable license under certain IP controlled by Editas. In consideration, Editas received $3.9 million.