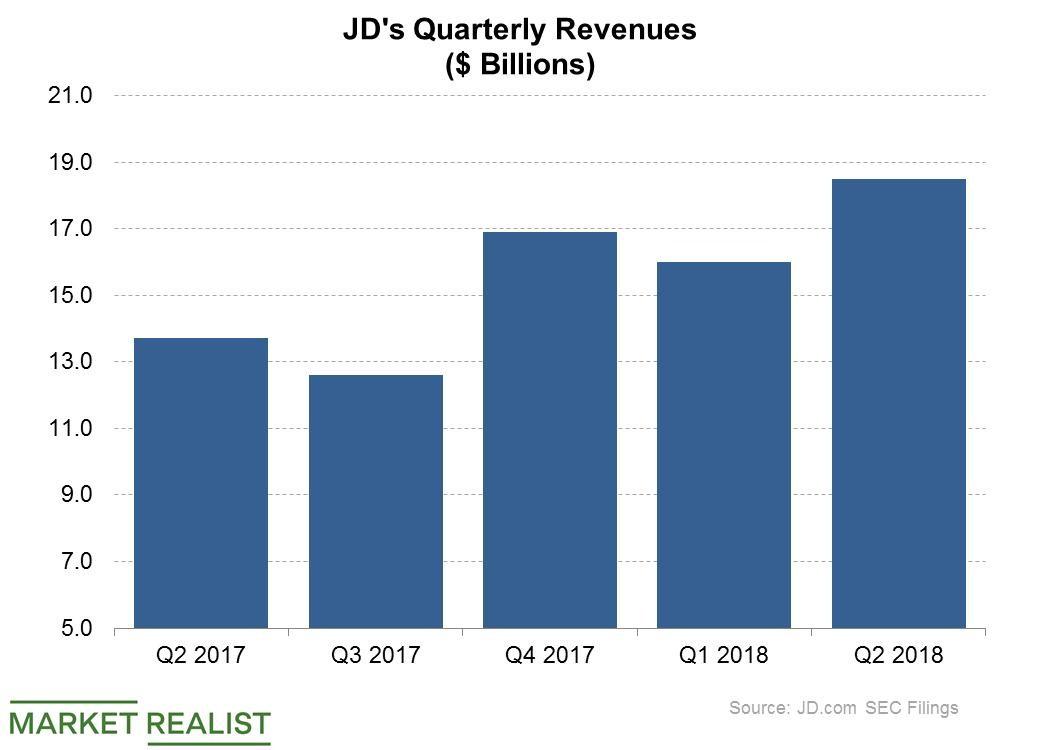 JD Invests in China's Fast-Growing Delivery Startup
By Ruchi Gupta

Dec. 4 2020, Updated 10:52 a.m. ET
JD invests $180 million in the business
JD.com (JD) recently teamed up with Walmart (WMT) to put $500.0 million into Dada-JD Daojia, China's fast-growing online delivery startup. Walmart said it injected $320.0 million into the startup, implying that JD invested ~$180.0 million in the business.
Dada-JD Daojia partners with retailers to deliver orders to customers on their behalf. The startup provides express delivery, such as one-hour delivery of grocery orders. Dada-JD Daojia's team comprises 5.0 million couriers, and it operates in more than 400 cities in China. The service has attracted more than 20.0 million monthly active users.
Article continues below advertisement
JD's revenues rose 31%
Dada-JD Daojia could be a crucial partner as JD expands in grocery retail and works to attract shoppers with the promise of fast delivery. JD's rival Alibaba (BABA) acquired food delivery startup Ele.me, also as part of its efforts to speed up its deliveries.
JD generated revenues of $18.5 billion in the second quarter, and its revenues increased 31.2% YoY (year-over-year). Amazon (AMZN) and eBay (EBAY) grew their respective second-quarter revenues by 39.3% and 9.1% YoY.
JD partnered with Google
The investment in Dada-JD Daojia came shortly after JD raised $550.0 million from Alphabet's (GOOGL) Google and formed an international partnership. Google agreed to help JD grow its overseas presence. Google has created e-commerce solutions that retailers can leverage to boost their online sales.
Walmart and other traditional retailers have picked up Google Express and Shopping Actions to make it easier for consumers to buy products online.