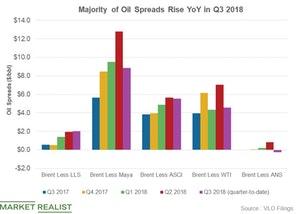 In Which Direction Are Valero's Oil Spreads Moving?
By Maitali Ramkumar

Aug. 16 2018, Updated 7:32 a.m. ET
Valero's oil spreads
Earlier, we analyzed Valero Energy's (VLO) third-quarter refining crack indicator trend. Now let's look at the trends in VLO's oil spread indicators.
Different oil spreads affect Valero's refining margins in different regions.
For instance, the Brent-ANS (Alaskan North Slope) oil spread affects VLO's margin in the USWC (US West Coast) region, and the Brent-WTI oil spread affects VLO's margin in the Midcontinent region. Other prominent spreads are the Brent-Maya, Brent-ASCI (Argus Sour Crude Index), and Brent-LLS (Louisiana Light Sweet) crude oil spreads, which affect VLO's margin in the USGC (US Gulf Coast) region.
VLO's peers' refining margins are also affected by several oil spreads. For instance, Delek US Holdings' (DK) refining margin is affected by the Midland WTI-Cushing WTI spread, and the WTI-WCS (Western Canadian Select) and WTI-Maya crude oil spreads affect Phillips 66's (PSX) margin.
Article continues below advertisement
Oil spread trend in the third quarter
Oil spreads play a significant role in determining VLO's refining margin. The larger the spread, the healthier it is for Valero's margin. In the third quarter, most spreads have expanded YoY (year-over-year).
Brent-Maya saw the largest expansion in the third quarter. The Brent-Maya spread has expanded $3.2 per barrel YoY to $8.8 per barrel in the third quarter so far. The Brent-LLS and Brent-ASCI spreads have also expanded YoY in the current quarter. The Brent-WTI spread has expanded $0.6 per barrel YoY to $4.6 per barrel in the quarter so far.
However, the Brent-ANS spread has contracted YoY. Brent, which stood at almost the same level as ANS in the third quarter of 2017, has traded at a discount of $0.2 per barrel to ANS in the third quarter so far.
Overall, four out of five oil spreads have expanded YoY in the third quarter, which could positively affect Valero's next-quarter refining earnings.