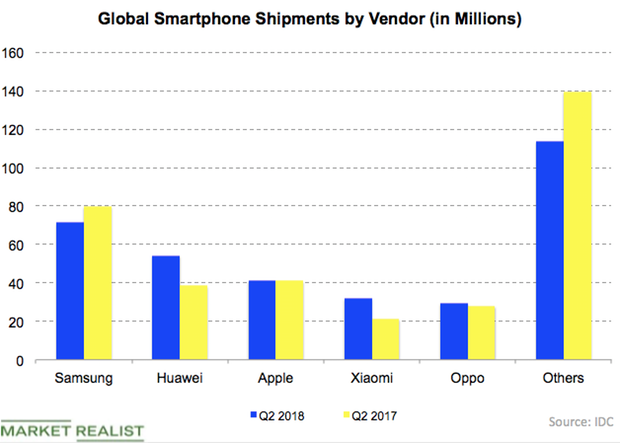 Huawei Overtook Apple in Mobile Shipments in Q2—And There's More
By Sanmit Amin

Aug. 3 2018, Updated 7:33 a.m. ET
Huawei's shipments surged in Q2
Chinese smartphone maker Huawei recently noted that it's on track to beat Apple (AAPL) in terms of phones shipped sometime next year. It looks like China's biggest handset maker has beaten Apple to the second spot globally in the second quarter, according to two separate reports by IDC and Canalys.
According to IDC, the global smartphone market shrank 1.8% in the second quarter. The research firm said that Apple's iPhone shipments rose only 0.7% YoY in the second quarter to 41.3 million.
Chinese manufacturers Huawei and Xiaomi continued their meteoric rise. Huawei's shipments rose 40.9% YoY to reach 54.2 million shipments in the second quarter.
Xiaomi is hot on Apple's heels. Xiaomi's shipments rose a staggering 48.8% YoY in the second quarter to 31.9 million, thanks to its success in China and India, the top two smartphone markets in the world.
Article continues below advertisement
Huawei may not be able to beat Apple's shipments for 2018
Samsung (SSNLF) sold only 71.5 million smartphones in the second quarter, a 10.4% decline from the same quarter last year. Apple, meanwhile, has struggled to grow in India, one of the fastest-growing markets for smartphones. However, Apple's mere 0.7% increase is due to higher iPhone X prices. Apple said that its revenues from iPhones surged 20.0% YoY in the second quarter.
A factor that may have skewed the second-quarter numbers is that Huawei sells several types of smartphones and launches new smartphones throughout the year. However, Apple usually launches new smartphones in September. iPhone users usually hold off their purchases until the new version is launched, which subdues its June numbers. It will be interesting to see the full-year numbers, as Huawei's numbers could approach Apple's figures.
Apple's strategy of maintaining high price points is working well for now. Although Apple may have been bested by Huawei in the previous quarter in terms of volume, Apple's much higher average selling price means that Apple could still post higher revenues than Huawei.