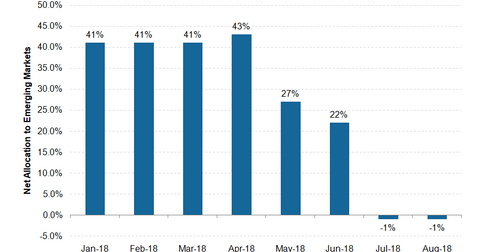 How Would an Emerging Market Currency Crisis Impact Gold?
By Anuradha Garg

Updated
Turkey's currency crisis spreading to emerging markets
The current crisis started when Turkish lira plunged and started to pressure other emerging market (EEM) currencies. While the outright sell-off in emerging market currencies has stopped, investors are still worried about the contagion spreading to these countries.
The US (SPY)(IVV) interest rates are already moving higher with the Federal Reserve on the path of even more hikes in the quarters ahead. As we discussed in Part 3 of this series, the US dollar is also strengthening against all the major currencies, including those of emerging markets. As the US dollar strengthens and interest rates rise, the cost of servicing US debt for other countries goes up.
Article continues below advertisement
Emerging markets: Supporting local currencies
As Turkey's concerns have spilled over to emerging markets, they are looking to monetize US dollar reserves to support their currency. Equity investors are pulling money out of emerging markets into the United States.
According to the latest Bank of America Merrill Lynch Survey, which was conducted between August 3 and August 9, the fund managers remained 1% net underweight emerging markets in August. However, this was before the Turkey implosion started. Also, short emerging markets were the second-most crowded trade.
The MSCI benchmark emerging-markets stocks index is down ~21% from its peak in January. Political and economic concerns in many emerging market countries—including Brazil, Argentina, and Turkey (TUR)—as well as trade war concerns between the United States and China (MCHI) have impacted their currencies negatively.
Currency crisis and gold
While there appears to little concern about the contagion from Turkey spreading throughout the emerging markets, investors might be in a cautious mode for some more time. This could further lead to strength in the US dollar and eventually weigh gold (GLD) down.
In the medium to long term, however, allocations to equity markets should stabilize. In the worst-case scenario, if the contagion does spread, then gold prices can rise along with US dollar (UUP) and interest rates (TLT) as they have done in the past. This includes including the emerging market crisis of 1997–1998.