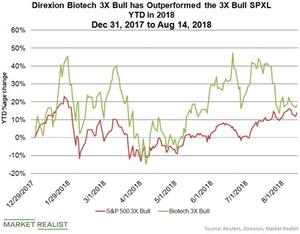 How the Biotech Sector Has Fared this Year
By Direxion

Aug. 31 2018, Published 9:12 a.m. ET
Direxion
Biotech is never defensive
Usually, when investors add biotechnology stocks to their portfolios, they feel confident about risk. Often this risk-on mentality pushes risky, binary names up and up. So, the opposite is also true. When they want to reduce risk, biotech names are the first to go. Other times, biotech sells off because a major type of therapy or cure fails. That doesn't seem to be the case here. This sell-off in biotech just feels like a good, old-fashioned raise-some-cash type of sell-off.
November and December are historically great months for biotech. So, keep these on your radar. LABU (3X Biotech Bull) and LABD (3X Biotech Bear) can help you stay risk-on or risk-off. Note how biotech was outperforming the market until recently—by a wide margin.
Article continues below advertisement
Conclusion: Avoiding FANG means adding risk, but some sectors may payoff
We really do have four badly performing sectors of stocks here. And they have all really hit big problems in the last month or so. Often, this means good opportunities to either reverse the trend or keep plunging. Whichever you believe is most likely to happen this fall, Direxion has a levered product for you. You can really supercharge your returns if get the timing and, of course, direction right.
Market Realist
The biotech sector dazzled last year
The biotech sector impressed last year because of tax reforms and biotech companies' mergers and acquisitions. The S&P Biotech Select Industry Index gained a whopping 44% in 2017 while the S&P 500 Index was up 19%.
Usually, biotech stocks are unaffected by earnings or any other market volatility. Mostly, they depend either on the success and failure of clinical trials or FDA approval. This year, however, the sector's performance hasn't been up to the mark. Strong fundamentals—like the balance sheets of large pharmaceutical companies and increased healthcare spending—could still drive returns for the sector, which otherwise struggled at the start of 2018. The sector has gained 10% year-to-date as of August 20.
Will the Q3 2018 earnings season revive the market and the sectors we discussed or put them under more distress? Will the US–China trade war ramp up, affecting the course of the market and the economy? Investors need to watch out in the second half of 2018, given the volatility in the market. Either way, Direxion has you covered with choices of leveraged ETFs.