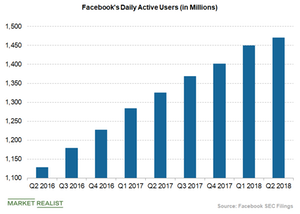 How Successful Is Facebook at Combating Hate Speech?
Facebook removes pages of Myanmar officials
Facebook (FB) has recently removed some of Myanmar's military officials' pages from its core platform as well as Instagram as an attempt to prevent the spread of hate speech and misinformation. The move came as a response to an investigative report from Reuters that criticized the social media giant earlier this month for failing to stop a campaign of hate speech against the Rohingya people and other Muslims.
The reports also charged Facebook with not providing enough resources to resolve the problem in Myanmar. Reportedly, there were more than 1,000 posts, comments, and images attacking Muslims on the Facebook platform.
Article continues below advertisement
Facebook's action
After the Reuters report, Facebook removed the pages of top officials of Myanmar, including 20 Burmese individuals and organizations, which were followed by millions of people in the country. It removed 18 Facebook accounts, one Instagram account, and 52 Facebook pages that were followed by ~12 million people.
Facebook was also pressured by United Nations investigators who found evidence that many of Myanmar's officials, including the commander-in-chief of Myanmar's armed forces and five generals, committed severe human rights abuses in the country, carried out mass killings, and mistreated Muslim Rohingya and thus should be prosecuted.
Social media companies struggling to safeguard platforms
Facebook has been trying to clean up its platform by suspending any fake or dubious accounts or pages that are intended to disrupt the upcoming global elections. The clean-up came after the company got involved in the Cambridge Analytica data leak scandal. Facebook's data issues also include companies such as Twitter (TWTR) and Alphabet's (GOOGL) Google, which generally use a lot of user data. The US Congress and lawmakers in the United Kingdom have targeted social media companies for spreading illegal or fake news content such as fraud, cybercrimes, piracy, and sex trafficking.
Rising cases of abusive content, cybercrime, and trolling have dented Facebook's and Twitter's user growth. Twitter lost a million monthly users in the second quarter. Facebook's global daily active users for the quarter were 1.47 billion, which failed to meet analysts' expectations of 1.49 billion.