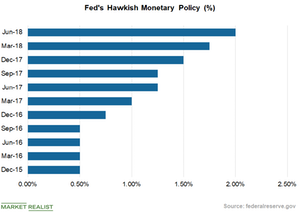 How Rising Interest Rates Could Drive Citigroup's Profitability
By Anirudha Bhagat

Updated
The Fed's hawkish monetary policy
The Federal Reserve kept the funds rate at 0.25% from December 2008 to December 2015. With an improving economy and a lower unemployment rate, it started to raise interest rates for the first time in December 2015 by 25 basis points (or bps) to 0.50%.
Since then, the Fed has increased the interest rate seven times. It has also hinted about raising the rate two more times this year, which would bring the interest rate to 2.5% from its current level of 2%.
Article continues below advertisement
Rate hikes can lead to higher profitability
Since the inception of the Federal Reserve in the early 20th century, it's been a general trend that long-term rates tend to increase faster than short-term rates in a rising interest rate scenario. Any increase in interest rates usually benefits commercial banks the most since they lend on a long-term basis and borrow on a short-term basis.
That means banks can reprice their investments and loans faster than their customers' deposits. So a rising interest rate scenario leads to a higher spread between the federal funds rate and the interest rate that banks charge their customers, thus increasing their profitability.
To fight the odds of the 2007–2009 financial crisis, the Fed took a number of initiatives that included bringing down the funds rate to an all-time low of 0.25% in December 2008. For several years, low-interest rates negatively impacted Citigroup's (C) net interest income and margins.
However, the bank has seen an improvement in its income and margins for the last few quarters. Citigroup's net interest income of $11.7 billion for the second quarter of 2018 was 4.4% higher sequentially. Similarly, the net interest margin of 2.7% for the second quarter registered a 10 bps sequential improvement.
With two more possible hikes this year, Citigroup is expected to see further improvement in its net interest income. Wall Street anticipates net interest income for 2018 to be $46.83 billion, up 4.8% from 2017.
Among Citigroup's major competitors, Wells Fargo (WFC), Bank of America (BAC), and JPMorgan Chase (JPM) are anticipated to have YoY improvements of 1.8%, 6.9%, and 9.6%, respectively, for their 2018 net interest incomes. These four stocks together make up ~27% of the Oppenheimer S&P Financials Revenue ETF (RWW).