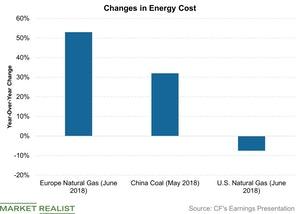 How Higher Energy Costs outside the US Benefited CF Industries
By Adam Jones

Aug. 24 2018, Updated 2:10 p.m. ET
Higher energy costs
Earlier in this series, we looked at how higher energy costs led to an increase in nitrogen fertilizer prices. In Europe, the cost of natural gas rose by 53% year-over-year as of June 2018, according to CF Industries (CF). China, which uses coal to produce nitrogen fertilizer, saw a 32% increase in prices year-over-year as of May 2018. In its second-quarter press release, CF Industries stated that natural gas prices in Europe may continue to increase in 2019.
Article continues below advertisement
The higher costs outside the US also helped ease the global supply pressures. Due to the increase in energy costs, nitrogen (ammonia and urea) plants in Central Europe and Ukraine were idled according to CF Industries. Moreover, CF Industries stated that plants in Europe were using imported ammonia. The decline in production through idling could have rationed the supply pressures.
While the Chinese coal prices also rose, regulatory changes in China such as the zero fertilizer growth policy led to a temporary or permanent closure of Chinese nitrogen capacity. This significantly affected the supply with CF Industries claiming a 74% decline in Chinese urea exports from January to June 2018 from the same period a year ago.
Companies (MXI) like Nutrien (NTR), Mosaic (MOS), and Intrepid Potash (IPI) had long been awaiting easing supply pressures.
US energy costs
In the US, the natural gas cost remained well below $3 per MMBtu (million British thermal units). Costs declined 7% year-over-year, putting CF Industries (CF) at a significant cost advantage.
CF Industries expects the supply to remain weak from Europe and China on the back of weak energy prices. The company stated that higher energy costs will keep affecting the profitability of producers in these regions. As a result, nitrogen prices should remain elevated.