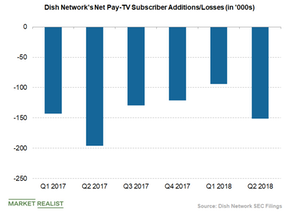 How Could the Dispute with Univision Affect Dish Network?
By Sophia Nicholson

Aug. 9 2018, Updated 10:31 a.m. ET
Dispute with Univision 
Dish Network (DISH) has been losing pay-TV subscribers to low-cost video streaming services dominated by Netflix (NFLX), Hulu, and Amazon Prime Video (AMZN), which are focusing on offering original content to attract more subscribers. Tech giants Apple and Facebook (FB) have also started streaming services, adding to the competition in the over-the-top space. Even Walmart (WMT) recently entered the streaming services market.
Dish Network recently had a dispute over higher fees with Spanish-language TV network Univision. That led Univision to withdraw its services for many DISH Latino customers at the end of the second quarter. The dispute is expected to hurt Dish's pay-TV subscriber numbers.
Article continues below advertisement
According to Dish Network, Univision was demanding a very high price for its services, despite the decline in ratings. Univision has reported prime-time rating declines of 50% over the past seven years but still insists on charging higher fees up to 75% over today's rates for DISH Latino and Sling Latino customers.
To offer customers some price relief, Dish stated that from August 1, Dish Latino monthly package users will get a $5-per-month credit, while Sling TV customers subscribing to the best of Spanish TV's stand-alone service will receive a monthly credit of $5. Dish Network is also offering free access to over-the-air antennas for Dish Latino and Sling Latino customers in specific areas.
Growing carriage fee blackout issue
The carriage fee dispute has been rising lately and is significantly hurting subscriber growth. Despite getting massive subsidies for the publicly-owned TV spectrum, large station owners and media giants are charging skyrocketing fees or using blackout tactics to broadcast content. As a result, satellite distributors are forced to overcharge consumers.