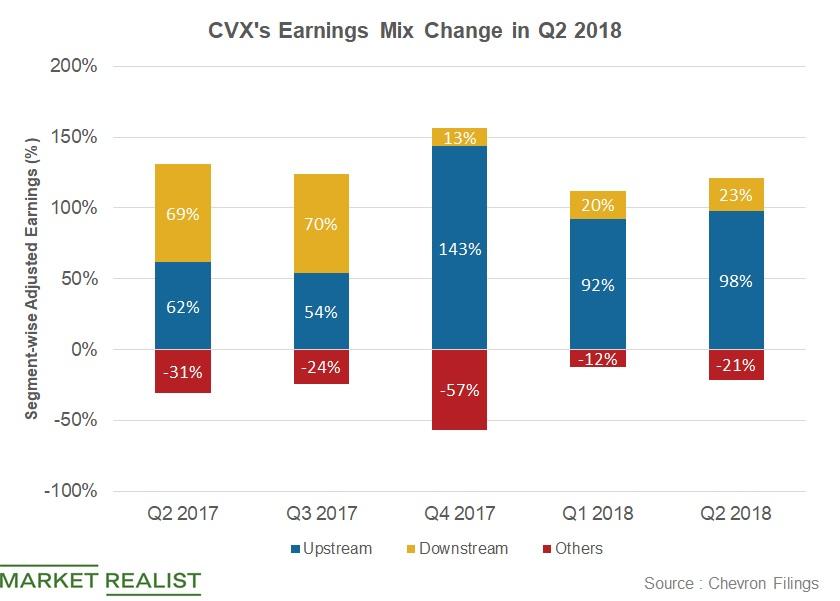 How Chevron's Earnings Mix Has Changed
Change in earnings mix
A rise in oil prices altered Chevron's (CVX) segmental dynamics in the second quarter. CVX's overall adjusted earnings rose from $1.7 billion in Q2 2017 to $3.4 billion in Q2 2018. However, the earnings mix has changed radically.
CVX's upstream segment, which contributed 62% to overall adjusted earnings in Q2 2017, contributed 98% to it in Q2 2018. With the steep rise in upstream earnings, contributions from the downstream segment declined. CVX's downstream segment's contribution fell from 69% in Q2 2017 to 23% in Q2 2018. Other expenses negatively impacted its earnings by 21% in Q2 2018 compared to 31% in Q2 2017.
It's quite evident that the rise in oil prices has led to an increase in CVX's upstream earnings, which has altered the company's earnings mix.
Article continues below advertisement
CVX's Q2 earnings details
Chevron's adjusted upstream earnings rose from $1 billion in Q2 2017 to $3.3 billion in Q2 2018. Its upstream earnings rose due to a higher hydrocarbon production coupled with better oil prices. Chevron's average crude oil realizations in the United States rose from $45 per barrel in Q2 2017 to $65 per barrel in Q2 2018.
However, Chevron's adjusted downstream earnings fell 33% year-over-year to $794 million in Q2 2018. That was mainly due to lower international earnings, which were impacted by the sale of Chevron's Canadian asset. Domestic downstream earnings rose due to higher margins. Refining throughput fell 8% year-over-year due to planned turnaround activities.
In the next part, we'll see how segmental capex trended in Q2 2018.