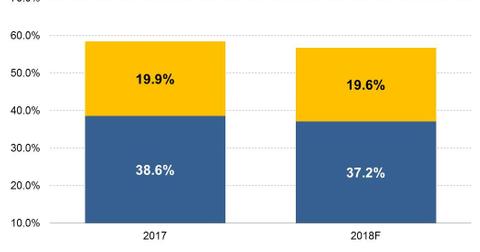 How Big of a Threat Is Snapchat to Facebook?
By Neha Gupta

Sep. 3 2018, Updated 9:30 a.m. ET
Snapchat gives Facebook a teenage run for its money
Facebook (FB) exited the second quarter with nearly eight times as many daily users on its main platform as its rival Snapchat. Facebook also generated ~50 times more revenue than Snapchat's parent, Snap (SNAP), in the second quarter. But that doesn't mean Facebook is winning on all fronts.
The latest social networks study from eMarketer shows that Facebook is losing the teenage race to Snapchat, at least in the United States. While Snapchat is poised to gain 1.2 million US users between the ages of 12 and 17 from 2018 to 2022, the study shows that Facebook is on track to lose 2.2 million US users from that age group.
Article continues below advertisement
Teens represent huge buying power
Snapchat and Facebook's Instagram are the top social media apps among American teens. What may be of concern to Facebook's investors, however, is that the study says Instagram's gains aren't completely compensating for Facebook's teenage user losses.
Teens represent ~$143 billion worth of buying power, and they influence hundreds of billions more in spending by others. This influence would explain why teens are a prime target for marketers and a sought-after audience for social media companies.
Facebook to take 19.6% of US digital ad spending
Facebook and Snap both rely on advertising for over 90% of their revenues. Facebook captured 19.9% of all US digital ad spending last year, but eMarketer predicts that this amount will fall to 19.6% this year. Google's (GOOGL) share of US digital ad spending is also expected to fall to 37.2% this year from 38.6% last year.
In contrast, Snap's share of US digital ad spending is expected to rise 81.7% this year from last year. The jump would see the company catch up to Twitter (TWTR). Amazon (AMZN) and Twitter are expected to capture 2.7% and 1.0% of US digital ad spending, respectively, in 2018.