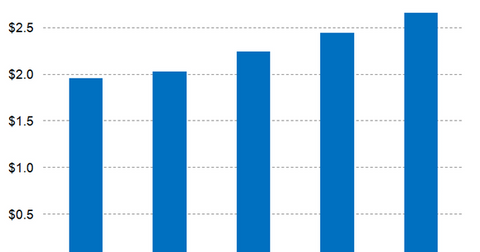 Eli Lilly Raised Its Non-GAAP Earnings Guidance for Fiscal 2018
By Margaret Patrick

Updated
EPS guidance
In Eli Lilly's (LLY) second-quarter earnings conference call, the company raised its fiscal 2018 non-GAAP EPS guidance from the previously projected range of $5.10–$5.20 to $5.40–$5.50. If we consider the midpoint of the guidance range, the guidance implies a rise of 27% YoY (year-over-year) in the company's non-GAAP EPS in fiscal 2018. Eli Lilly reduced its fiscal 2018 GAAP EPS guidance from the previously projected range of $4.52–$4.62 to $3.19–$3.29 due to higher charges associated with in-process research and development related to the acquisition of ARMO BioSciences.
Wall Street analysts have projected Eli Lilly's fiscal 2018 adjusted diluted EPS to be ~$5.5, which would be a rise of ~27.8% YoY.
Pfizer (PFE), Merck (MRK), and Bristol-Myers Squibb (BMY) are expected to report revenues close to $2.99, $4.28, and $3.61, respectively, in fiscal 2018.
Article continues below advertisement
Second half of 2018
Eli Lilly expects to witness non-GAAP EPS of $2.57–$2.67 in the second half of 2018, which is higher than analysts' consensus estimate. The projection doesn't assume any price increases for the company's products in the United States in the second half of 2018. However, Eli Lilly expects lower non-GAAP EPS in the second half of 2018 due to factors like generic pressures for its Cialis brand starting in September and increasing investments to advance research programs for products like mirikizumab and IL-10 obtained from the ARMO acquisition. Eli Lilly is also focused on exploring Olumiant and Taltz's potential in new indications or line extensions. Eli Lilly is preparing for the commercial launch of galcanezumab in the United States. Eli Lilly also realized higher revenues from its Adcirca collaboration in the United States in the first half of 2018.