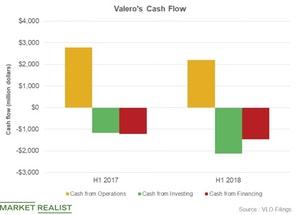 Does Valero Have a Strong Liquidity Position?
By Maitali Ramkumar

Aug. 17 2018, Updated 7:31 a.m. ET
Valero's cash flow
In the first half of 2018, Valero Energy (VLO) generated $2.2 billion in cash from operations. The company had $2.1 billion in the form of investing cash outflows and $1.5 billion in the form of financing outflows.
Article continues below advertisement
Valero's cash flow surplus
The company had cash outflows of $1.2 billion in the form of capex and $0.7 billion in the form of dividends in the first half of 2018, a total of ~$1.9 billion worth of crucial cash outflows in the first half of the year. VLO's cash flow from operations of $2.2 billion was more than sufficient to cover these cash outflows. In fact, VLO was left with $0.3 billion in surplus cash—a favorable position—after spending on capex and dividends.
Valero spent the surplus cash flow on the partial funding of its acquisition of Pure Biofuels del Peru (or PB), the third-largest fuel importer in Peru. PB has terminals in Callao and Paita, providing a strategic advantage for VLO's Gulf Coast refineries in terms of proximity, scale, and flexibility for the service of markets in Latin America.
The company used its cash reserves to fund the remaining portion of the acquisition. VLO's cash reserves fell from $5.9 billion at the beginning of the first half to $4.5 billion at the end of the first half.
Surplus in liquidity system
Valero observed a cash flow surplus in the first half. However, due to VLO's acquisition activities, its cash balance did not rise. Nonetheless, VLO funded its Peru acquisition without relying on debt, which is a favorable scenario for the company.
Going forward, VLO's earnings could surge in the third quarter due to the seasonal nature of its business. If its earnings rise, its cash flow surplus and cash reserves could rise also, leading to a further improvement in its liquidity position.