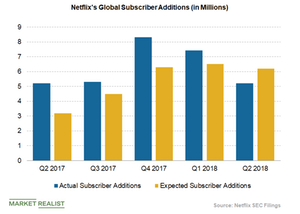 Could Disney's Online Streaming Services Hurt Netflix?
By Sophia Nicholson

Aug. 16 2018, Updated 9:30 a.m. ET
Disney's two streaming services
Amid rising popularity of online video streaming services and falling traditional subscriber base, Walt Disney (DIS) is marketing its direct-to-consumer offerings to attract more viewers. The first direct-to-consumer (or DTC) streaming service was launched in April for ESPN, which streams live sports.
Another direct-to-consumer offering is expected to stream Disney-based content. It has a projected launch date of late 2019, and it's expected to stream Disney films, TV shows, and other content from Disney's extensive library. The company has also reorganized its segments, creating a new unit focused on its upcoming streaming services, which would be reflected by fiscal 2019.
Article continues below advertisement
Impact of Disney's streaming service on Netflix
The launch of its Disney-branded video streaming service in 2019 would mean that the company could stop streaming its movies on the streaming service provider Netflix (NFLX) from 2019 onward. This move could hurt Netflix's subscriber base. Further, Disney's streaming cost is expected to be lower than Netflix.
Disney launched its ESPN Plus streaming service at $5 per month but hasn't disclosed the streaming price for the upcoming entertainment service yet. The acquisition of 21st Century Fox (FOXA) is expected to give Disney a majority stake in Hulu, which offers programming starting at $8 per month. Netflix's plans range from $8 to $14 per month.
Although Netflix is the content king, it faces competition from companies that are entering the streaming space as consumers are switching from traditional cable TV bundles to streaming online. Netflix has delivered hit shows like Stranger Things and The Crown. Amazon's original shows Man in the High Castle and The Marvelous Mrs. Maisel were among its popular offerings. With YouTube TV, subscribers can get unlimited cloud DVR storage.
Walmart (WMT) is planning to launch a video streaming service to challenge Netflix's dominance in the streaming market. Netflix posted revenues of $3.91 billion in the second quarter, missing the consensus estimate of $3.94 billion.
The company also missed subscriber projections in the quarter. Netflix added ~5.2 million customers from April through June, which was 1.0 million fewer than the company's expectations of 6.2 million and analysts' estimates of 6.34 million. It was also down from 7.41 million in the first quarter.