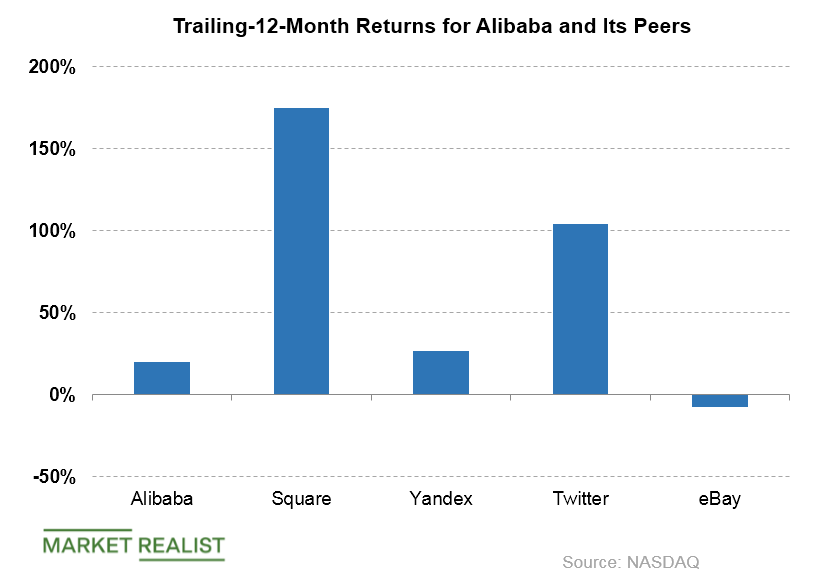 Could Alibaba Hit a New Peak?
By Neha Gupta

Dec. 4 2020, Updated 10:53 a.m. ET
Shareholder returns and stock trends
Article continues below advertisement
How much debt is Alibaba carrying?
Alibaba's total debt is $20.02 billion, comprising short- and long-term debt of $0.96 billion and $19.1 billion, respectively. With $90.1 billion in capital, its debt-to-capital ratio is 22.2%. Its debt-to-assets, debt-to-equity, and debt-to-EBITDA multiples are 0.18x, 34.32x, and 1.60x, respectively.
Relative strength index scores and interest coverage
Alibaba's 14-day RSI (relative strength index) score is 41, while Square's, Yandex's, Twitter's, and eBay's are 61, 39, 20, and 20, respectively. Its interest coverage ratio is 83.3x, and its debt-to-enterprise value ratio is 4%.
Market capitalization
Currently, Alibaba is the world's largest Internet player, with a market capitalization of ~$473.3 billion. Meanwhile, Square's, Yandex's, Twitter's, and eBay's market caps are ~$33.3 billion, ~$27.2 billion, ~$24.4 billion, and ~$33.4 billion, respectively.