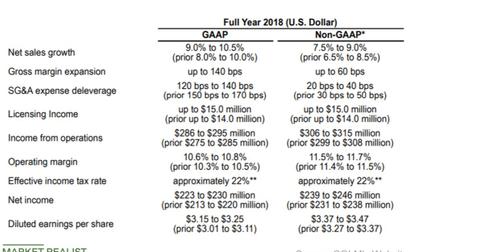 Columbia Sportswear Raises Fiscal 2018 Guidance
By Sonya Bells

Aug. 2 2018, Updated 6:31 a.m. ET
Guidance update
Along with the second-quarter results, Columbia Sportswear's (COLM) management also raised its full-year 2018 guidance for both the top and bottom lines. The company now expects non-GAAP net sales to grow in the 7.5%–9% range versus the prior outlook of a 6.5%–8.5% increase and a 4%–6% rise at the beginning of the year. GAAP sales are expected to increase in the 9%–10.5% range as compared to prior guidance of an 8.0%–10% increase.
"With the strength in the first half performance we are pleased to increase our full year 2018 financial outlook," said Tim Boyle, president and CEO of Columbia Sportswear.
Article continues below advertisement
Margins to improve further
Gross margin expectations remain unchanged, and the company continues to expect an improvement of up to 60 basis points in non-GAAP gross margin and up to a 140-basis-point increase in GAAP operating margin.
However, non-GAAP SG&A deleverage is likely to come down to 20 to 40 basis points as the SG&A expense increases faster than sales. Earlier, the company had guided 30 to 50 basis points of SG&A deleverage.
"As we move into the second half of 2018, our SG&A growth rate will increase, reflecting higher demand creation expenses, continued investment in our DTC business, capability development, and informational technology spending to support our strategic initiatives," said Boyle.
Despite rising expenses, the management has predicted fiscal 2018 non-GAAP operating income to land between $306 million and $315 million versus $299 million to $308 guided earlier. Non-GAAP operating margin is likely to range between 11.5% and 11.7% versus 11.4% and 11.5% guided earlier.
The management has also lifted its earnings per share (or EPS) range to $3.37 to $3.47 per share as compared to the prior outlook of $3.27 to $3.37.