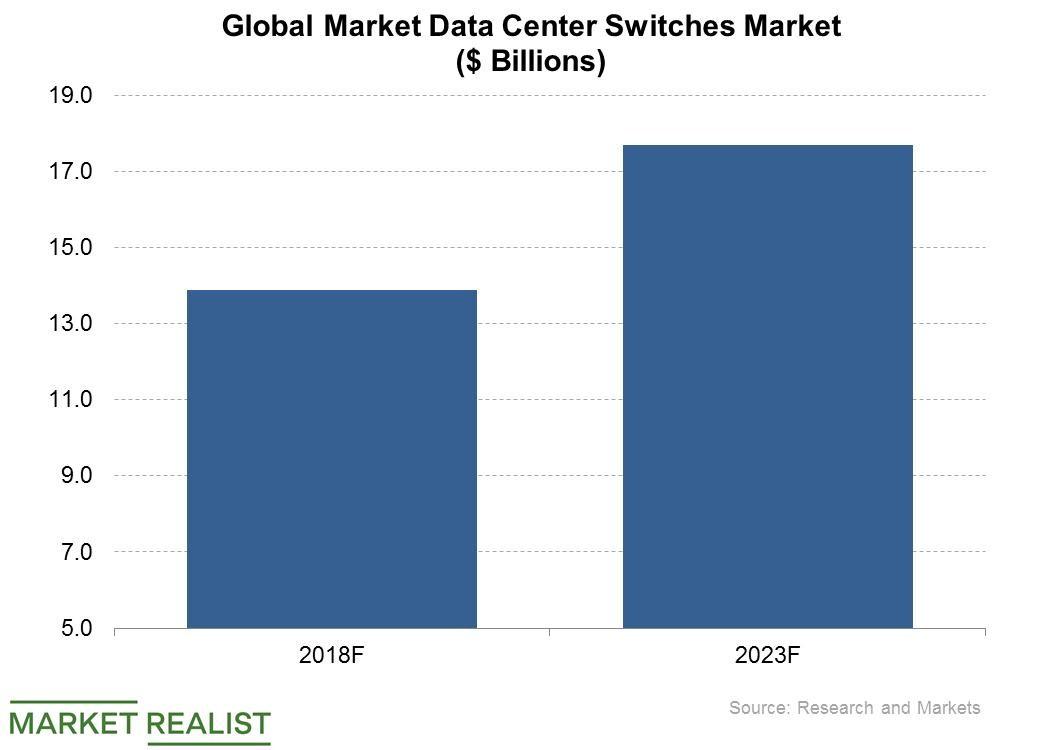 Cisco's Switch Business Seems Safe from Amazon's Challenge
By Ruchi Gupta

Aug. 8 2018, Updated 12:00 p.m. ET
Amazon dominates the cloud market
Amazon (AMZN) isn't planning to challenge Cisco Systems (CSCO) in the network switches market. The Information reported on July 13 that Amazon was building so-called white-box switches with the aim of selling the equipment to other companies, particularly its enterprise cloud customers.
Amazon is the world's top vendor of cloud computing services with a 33.0% share of the global market, according to Synergy Research. However, it faces tough competition from Microsoft (MSFT) and Alphabet's (GOOGL) Google. In July, Microsoft inked a broad cloud computing deal with Amazon's retail rival Walmart (WMT), which is expanding in India with a $16.0 billion investment in Flipkart.
Microsoft commands 13.0% of the global cloud market while Google controls 10.0% of the market. Microsoft and Google recently grew their share of the cloud market at a time when Amazon's share remained unchanged.
Article continues below advertisement
Amazon denies network switch venture rumors
Rumors of Amazon venturing into the business of selling networking switches was linked to its efforts to differentiate itself from its cloud competitors, as well as open a new revenue stream in its cloud computing unit. However, Amazon recently told MarketWatch that it wasn't planning to sell network switches in a challenge to Cisco Systems.
For Cisco Systems, there is a reprieve that Amazon isn't planning to challenge it for revenues in the network equipment market. Cisco Systems and other network companies saw their stock prices fall following the report that Amazon was building its network switches to sell to its business customers.
Data center switch market is worth $17.7 billion
Selling network systems is Cisco Systems' main business. The data center switch market is expected to grow to $13.9 billion this year. This market is expected to grow to $17.7 billion by 2023, according to Research and Markets.