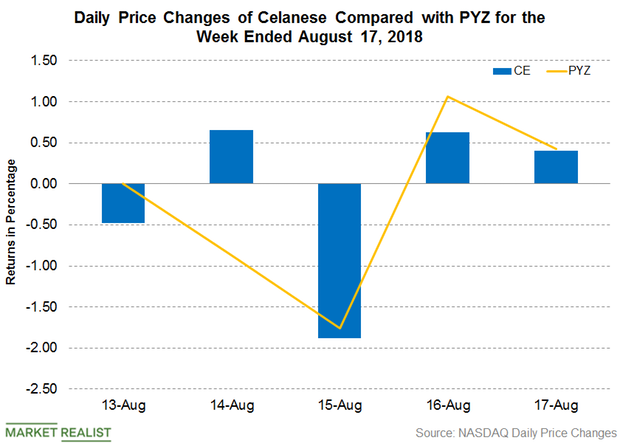 Celanese Obtained Four New Patents for Its Sunett Sweetener
By Peter Neil

Aug. 20 2018, Updated 12:40 p.m. ET
Celanese obtained new patents
On August 15, Celanese (CE) announced that its famed sweetener Sunett obtained four new patents granted by the United States Patent and Trademark Office related to improving the manufacturing process for producing acesulfame potassium (Sunett Ace-K).
The granted patent ensures that the new technology belongs exclusively to Celanese, which would provide the highest quality on its Sunett portfolio. Sunett Ace-K is a sweetener that's used in beverages, dairy products, bakery products, sauces, and pharmaceuticals.
Article continues below advertisement
Scott Sutton, Celanese's COO, said, "As the inventor and only Western producer of Sunett® Ace-K, Celanese has developed a series of best practices to deliver one of the industry's highest quality artificial sweeteners, ensuring product purity, supply reliability and accountability. Celanese continuously invests in manufacturing and quality improvements and is dedicated to robust research, development and customer support for the sweetener products manufactured by our patented process. We are pleased that the USPTO has granted Celanese these patents, which will continue to place Celanese as a leading, global high intensity sweetener manufacturer. We intend to vigorously defend our patented technology against unlawful importation and uses in the United States."
Stock price update
The news didn't have a positive impact on Celanese stock. The stock declined 0.7% and closed at $115.69 for the week ending August 17. Despite a decline in the stock price, Celanese traded 3.7% above its 100-day moving average price of $111.57, which indicate prevailing bullishness in the stock.
Celanese stock has gained 8.4% year-to-date, while LyondellBasell (LYB) and Eastman Chemical (EMN) have gained 2.5% and 5.5%, respectively. Westlake Chemical (WLK) has declined 12.4%. Celanese's 14-day relative strength index score of 52 shows that the stock isn't overbought or oversold.
Investors can hold Celanese indirectly through the Invesco DWA Basic Materials Momentum ETF (PYZ). PYZ had 3.1% exposure to Celanese on August 17. PYZ fell ~1.2% last week.