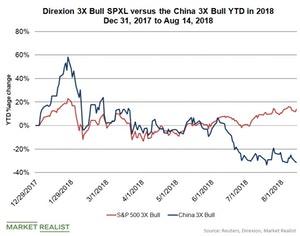 Can China Recover from Trade War Losses?
By Direxion

Aug. 31 2018, Updated 10:45 a.m. ET
Direxion
China has been a train wreck during this trade war
Wow. Just wow. Chinese markets are off 25% on average. It has been total carnage since the trade war started with the United States. Tariffs are clearly hurting the country more that perhaps would have been imagined.
The question for the US government is one of contagion. Does the United States continue its war without having any consequences? The US market is still solid if not flashy. It's really a tough call here, but there are a lot of Chinese stocks getting cheap out there. On the other hand, President Trump doesn't seem like the type to let up on a pain trade. But who knows, maybe cooler heads will prevail.
Either way, Direxion has you covered with the YINN (3X China Bull) and the YANG (3X China Bear) of the Chinese Market. Take a look at the triple-weighted S&P 500 Direxion ETF (SPXL) versus China below (look at that divergence in mid-June).
Article continues below advertisement
Market Realist
China–US trade war tensions
Since President Trump took office, China has been a major concern for the new administration. During his election campaign, Trump announced that he would impose a 45% tariff on Chinese imports and label China as a "currency manipulator." He also planned to restrict China's entry into the World Trade Organization. In April, President Trump triggered a trade war by announcing 25% tariffs on imported steel and 10% tariffs on imported aluminum from China, Canada, and countries in the European Union.
Later, China and Europe announced tariffs on some US products in retribution. In June, Trump threatened to impose 20% tariffs on European cars. In July, the administration announced another set of tariffs on Chinese products, which included electronics, textiles, auto parts, and metal products. While Europe has chosen to take an approach of compromise with the tariff threats, China has decided to retaliate. China also announced tariffs on $50 billion of US goods. The ongoing trade tensions took a toll on the Chinese market since China is an export-dependent economy. The chart below shows export-driven economies and their exports to the United States.
Many economists believe a trade war with China will take a toll on the United States as well as the global economy, which the markets have experienced so far this year.
How long this trade war will continue remains something to watch out for this year. Direxion has you covered with its leveraged ETFs for the Chinese market, the 3X China Bull (YINN) and 3X China Bear (YANG).