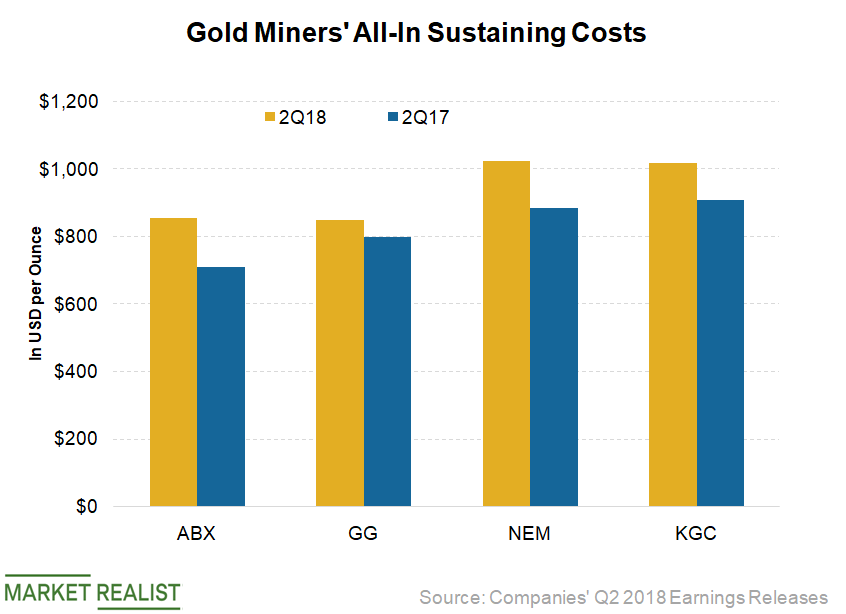 At What Cost Are Gold Miners Mining Gold?
By Anuradha Garg

Aug. 22 2018, Updated 9:01 a.m. ET
All-in sustaining costs and gold miners
AISC (all-in sustaining costs) is an encompassing measure that helps us compare gold miners' performances. It shows a company's margin cushion at prevailing gold prices (GLD) (IAU).
Barrick Gold (ABX) reported AISC of $856 per ounce and a cost of sales of $882 per ounce in the second quarter. Its cost of sales reached 22.0%, and its AISC was 21.0% higher YoY (year-over-year). These costs were also higher than the company's guidance range for the full year.
Article continues below advertisement
However, some of these higher costs were anticipated by the company due to lower production and planned maintenance. It maintained its AISC guidance for 2018 at $765–$815 per ounce compared to $710–$770 per ounce a year earlier. Lower production at some of its mines and its processing of higher-cost inventory are the main reasons for this higher guidance.
GG and NEM
Goldcorp (GG) achieved AISC of $850.00 per ounce in the second quarter, which was 6.3% higher YoY and 5.0% higher sequentially. Its AISC was also higher than its 2018 guidance of $800.00 per ounce plus or minus 5.0%. The company reaffirmed its guidance that its AISC would taper down to $700 per ounce by 2021. A large part of this improvement is expected to be due to higher production and annual sustainable efficiencies.
Article continues below advertisement
Newmont Mining's (NEM) AISC were $1,024 per ounce in the second quarter, 16% higher YoY and 5.2% higher sequentially. This marks a temporary rise in costs for Newmont in 2018 as the company executes on stripping campaigns at Carlin, Twin Creeks, Boddington, and Yanacocha. While NEM's unit costs increased YoY, they were in line with its 2018 guidance.
Newmont maintained its cost guidance for 2018 at $965–$1,025 per ounce, 7.7% higher at the midpoint than its actual AISC of $924 per ounce in 2017. The company sees its costs coming down again in 2019 as it brings its new low-cost mine, Subika Underground, online. NEM could also reach higher grades at its key operations, which could help lower costs.
Kinross Gold's costs improved
Kinross Gold (KGC) reported AISC of $1,018 per ounce in the second quarter, reflecting an increase of 12% YoY and 20% sequentially.
Kinross Gold has maintained its AISC guidance of $975 per ounce for 2018 plus or minus 5%, which is largely in line with the company's 2017 AISC per ounce. Going forward, the company could lower its unit costs even more. However, if the Tasiast expansion remains on hold for too long, investors' sentiments could sour.
As we've seen, Barrick Gold's costs are rising, but it's still in the first quarter of the industry's cost curve and is among the lowest-cost gold producers. For any given price of gold, it could make the most money if other factors remain constant. AISC, for example, doesn't include growth capex. Goldcorp is quickly outpacing Barrick Gold in terms of cost improvements.
In the next article, we'll look at these companies' financial leverages.