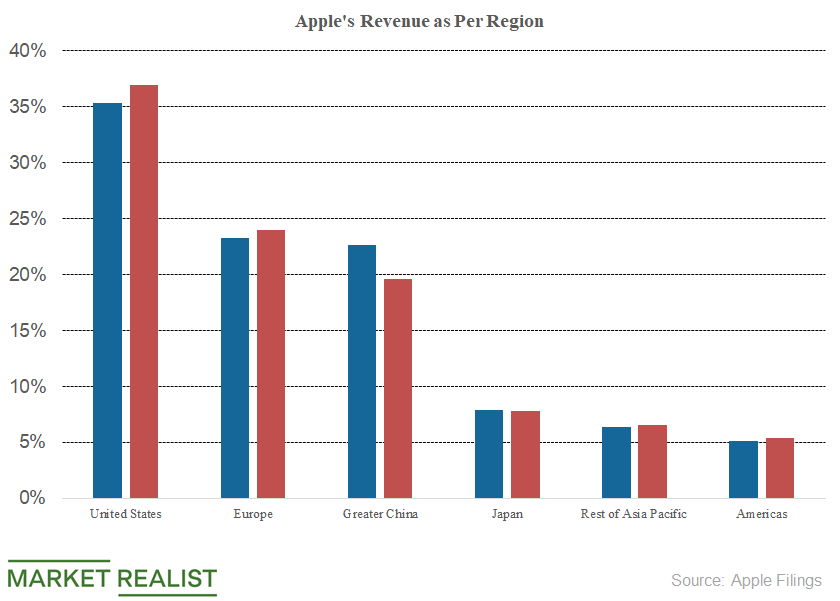 Apple's iPhone Dominates Smartphone Revenue in China
By Adam Rogers

Aug. 10 2018, Updated 11:55 a.m. ET
Apple's iPhone generated over $25 billion in sales in China
According to a DigiTimes report, Apple (AAPL) sold 32.11 million iPhone devices in China (FXI) during the first six months of 2018, landing it in third place in the country behind smartphone manufacturers Oppo (38 million units) and Vivo (35.5 million units).
However, Huawei was the smartphone leader with over 58 million devices shipped after considering shipments of its Honor brand.
Overall smartphone shipments in China fell almost 18% YoY (year-over-year) to 196 million units, according to research company Sigmantell. By revenue, Apple was the leader with $25.24 billion in sales for the first six months of 2018. The two iPhone devices that reportedly drove its sales in China were the iPhone X and the iPhone 6.
Article continues below advertisement
Can Apple maintain its premium market share?
Greater China is an important market for Apple, as this region accounted for 22.6% of its total revenue in fiscal 2016 and 19.6% of its total revenue in fiscal 2017. 
Apple has been facing competition from China's domestic heavyweights, including Huawei, Oppo, Vivo, and Xiaomi. These companies are now looking to enter the premium smartphone segment in China with high-end models priced at over $650 (almost 50% of the cost of an iPhone X in China). 
Although Apple has been losing market share in China, the iPhone has always been a consumer favorite, especially in the premium segment. Now with domestic competition in high-end devices, it will be interesting to see whether Apple can maintain its share in this niche market.