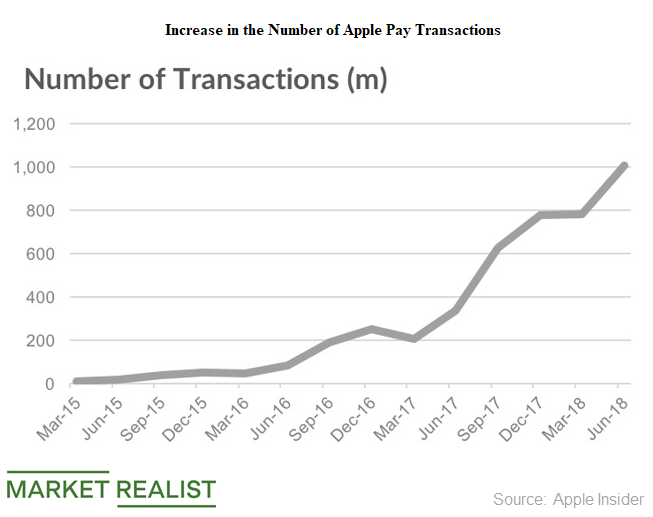 Apple Pay Gains Traction in Fiscal 2018
Over 253 million use Apple Pay globally
According to Apple (AAPL) analyst Gene Munster, the company's mobile payments platform Apple Pay has ~253.0 million users. This indicates that 31.0% of iPhone customers use Apple Pay, which is currently available in 30 countries. Apple Pay users in the United States account for 15.0% of its user base, compared to the international user base of 85.0%.
Apple Pay is one of the key drivers of the company's fast-growing Services revenues. In the fiscal third quarter, Apple's Services revenues rose 31.0% YoY (year-over-year) to $9.5 billion. Analysts expect Apple Pay to account for 1.0%–2.0% of total Services revenues, which translates to quarterly revenues of $95.0 million–$190.0 million.
Apple Pay has experienced YoY revenue growth of 500.0% in the fiscal third quarter, 400.0% in the fiscal second quarter, and 300.0% in the fiscal first quarter. The number of users has almost doubled from 127.0 million in February.
Article continues below advertisement
Costco supports Apple Pay
Earlier this month, Costco (COST) announced that 750 of its big box stores would support Apple Pay. Costco also accepts Google Wallet (GOOG)(GOOGL) and Samsung Pay (SSNLF).
Apple has secured similar deals with 7-Eleven and CVS. Apple also inked a deal with online retailer eBay (EBAY) earlier this year.