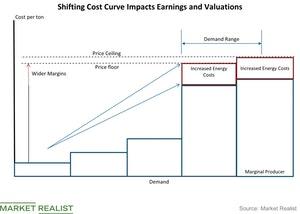 Analyzing the Global Cost Curve of Nitrogen
By Adam Jones

Aug. 24 2018, Updated 12:40 p.m. ET
Why did prices increase?
It's important for CF Industries (CF) investors to understand what's behind increasing fertilizer prices. In its press release, the company stated that "Increased production costs, particularly for producers in Europe and China, have raised and flattened the upper half of the global cost curve, supporting higher prices." Let's look at this in a bit more detail.
Article continues below advertisement
The cost curve shift
The above chart shows what CF Industries is conveying. This chart also applies to fertilizer companies (XLB) such as Mosaic (MOS), Nutrien (NTR), and Israel Chemicals (ICL).
Each bar represents the cost of production for a particular producer. CF Industries is one of the lowest cost producers and is on the far left of the curve. However, the global selling prices are decided by the marginal producer's cost of production. For example, in the above chart, we see that the demand range lies between the last two marginal producers. This range determines the global prices, which are represented by the price floor and price ceiling lines.
If we look at the second half of the cost curve, we see how the increase in production cost has lifted the global cost curve. According to CF Industries, fertilizer prices rose due to higher energy costs in China and Europe.