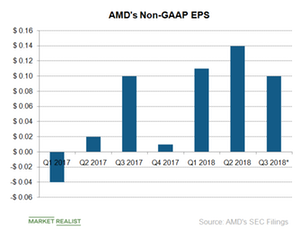 AMD Aims to Report Positive Cash Flow in the Long Term
AMD's earnings per share
Advanced Micro Devices (AMD) had a profitable fiscal Q2 2018. It executed its strategy to improve profits by targeting high-performance products. It reported double-digit operating margins in both of its segments. That converted to a non-GAAP net income of $156 million, its highest quarterly net income in seven years.
That was a significant improvement from a net loss of $7 million reported in fiscal Q2 2017 and up 29% sequentially. Its net income, when divided by the diluted share count of 1,147 million, resulted in a non-GAAP EPS of $0.14 in fiscal Q2 2018, up 27% sequentially.
AMD doesn't provide EPS guidance, but analysts expect the company to report EPS of $0.10 in fiscal Q3 2018. For fiscal 2018, analysts expect EPS to be $0.46. AMD's long-term target is EPS of $0.75, excluding the cryptocurrency boom.
Article continues below advertisement
Cash flow
Despite strong earnings, AMD reported a negative operating cash flow of $45 million in fiscal Q2 2018. That's because its expenses are typically high in the first half of the year as it launches new products and starts volume production in preparation for seasonal sales in the second half. It bears the fruit of its first-half expenses in the second half in the form of high cash flows.
That's similar to rivals Nvidia (NVDA) and Intel (INTC), whose operating cash flows are low in the first half and high in the second half. Unlike AMD, Nvidia and Intel report positive cash flows and are therefore able to give returns to shareholders in the form of dividends and stock buybacks.
As you can see in the above graph, AMD's negative cash flow in the first half of 2018 declined compared to the previous year, indicating an increase in cash inflow. The company expects to report positive cash flow in the second half of 2018.
Next, we'll look at AMD's balance sheet.