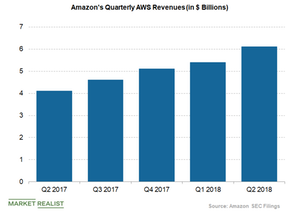 Amazon's Partnership with VMware for Cloud Services
By Sophia Nicholson

Aug. 30 2018, Published 1:05 p.m. ET
Amazon launches new software
Amazon (AMZN), through its Amazon Web Services (or AWS) division, has secured a dominant position in cloud computing by hosting other companies' technology infrastructures in its massive data centers. Amazon is now rolling out a new cloud-based database management software in collaboration with VMware (VMW) to offer cloud services to companies that still use on-premises data centers.
Article continues below advertisement
Amazon's partnership with VMware
Amazon and VMware have been associated since October 2016 in a combination of cloud and on-premises technologies. Their most recent collaboration will deepen their relationship and offer cloud support to corporate computing outside its facilities. The software will be rolled out in the next few months and should help network administrators run their databases across more servers, regardless of whether those machines are stored in-house or hosted by Amazon.
The new product—Amazon Relational Database Service on VMware—will also support popular databases from Microsoft (MSFT) and Oracle but could pose a threat to Microsoft's on-premises software tool Azure Stack.
Amazon's dominance in the cloud market
AWS's revenues rose 49% to $6.1 billion in the second quarter, with growth accelerating in both the first and second quarters.
According to Synergy Research Group, AWS holds a 34% share of the global cloud market as of the end of July, which is much higher than the other leading cloud providers. Microsoft has a 13% share of the worldwide cloud market, Alphabet's (GOOGL) Google has a 6% share, and IBM's (IBM) share is 8%.