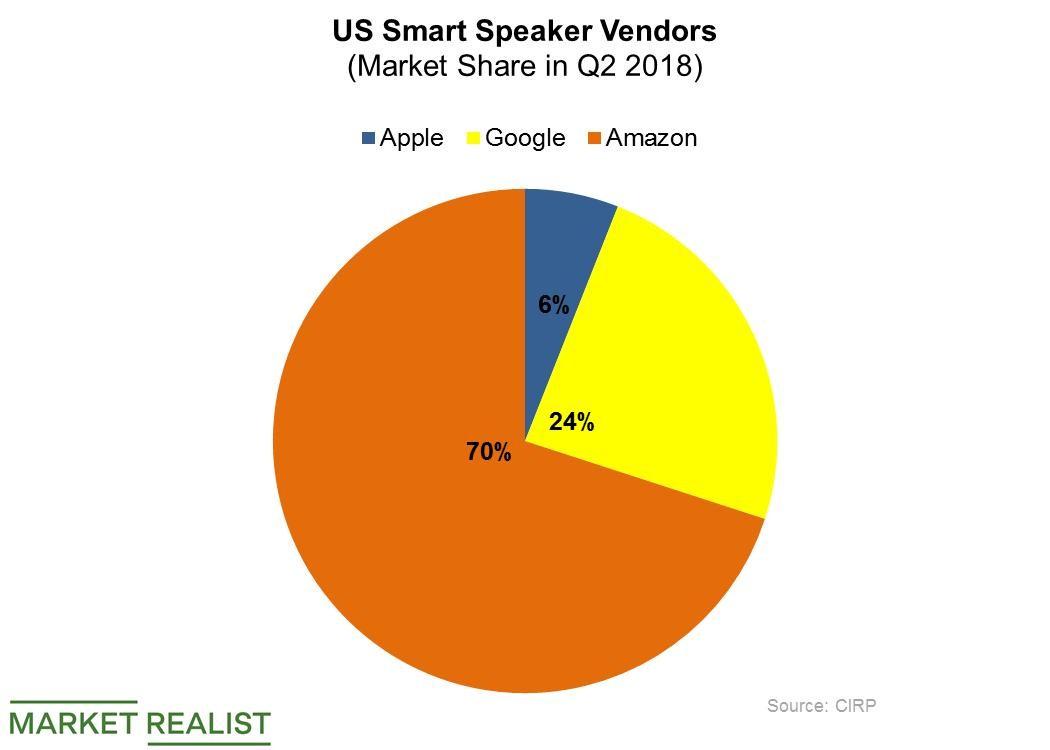 Amazon Rules the US Smart Speaker Market
By Neha Gupta

Nov. 20 2020, Updated 4:00 p.m. ET
70% of smart speakers in the US are Amazon brands
Although Amazon (AMZN) pioneered the smart speaker, the company faces new competitors each year. The company is under growing pressure to defend its market share. According to a new report by Consumer Intelligence Research Partners (or CIRP), Amazon still leads the US smart speaker market despite the escalating competition.
At least 70.0% of smart speakers in use in the United States are Amazon brands, according to CIRP's report. Alphabet's (GOOGL) Google controls 24.0% of the US smart speaker market, and Apple's market share is 6.0%. The rest of the smart speaker companies, including Sonos (SONO) as well as Microsoft (MSFT) and its partner Harman Kardon, currently have a negligible share of the US smart speaker market.
Article continues below advertisement
Amazon's Alexa powers competing smart speaker brand
Sonos, which went public earlier this month, uses Amazon's Alexa digital agent in its smart speaker products. Sonos stated that it isn't concerned about competition from Amazon. However, it cautioned that the escalating US-China trade conflict could hurt its sales.
The market is crowded, but the industry is growing
The entry of more players into the smart speaker space means more competition for market leaders like Amazon. It also means the industry is expanding, which should be a boon to more established smart speaker brands like Amazon. Amazon sells a wide range of smart speakers at different price points, catering to a broad base of customers.
Yandex (YNDX), one of the newcomers to the smart speaker business, began selling its Station speakers in Russia last month.