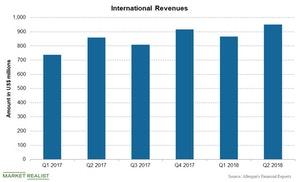 Allergan's International Business Segment in Q2 2018
By Mike Benson

Aug. 20 2018, Updated 9:31 a.m. ET
International Business segment
Allergan's (AGN) International Business segment includes the revenues from both its specialized therapeutics portfolio and its general products portfolio from outside US markets.
The chart above compares the revenues for the International Business segment since the first quarter of 2017.
Article continues below advertisement
International Business segment
The International Business segment reported revenue of $949 million in the second quarter. The performances of each of the franchises in the segment in the quarter were as follows:
The eye care franchise reported a 9.8% rise in YoY (year-over-year) revenue to $353.7 million driven by strong sales of Lumigan/Ganfort, Ozurdex, Alphagan/Combigan, and Optive.
The medical esthetics franchise reported a 14.4% rise in YoY revenue to $409.8 million.
The facial esthetics portfolio reported a 14.7% rise in YoY revenue to $329.8 million. The facial esthetics portfolio includes Botox cosmetic products, Juvederm products, Kybella, Latisse, and other facial esthetics products.
Plastic surgery products reported a 2.9% fall in YoY revenue to $40.3 million. The plastic surgery portfolio includes breast augmentation products, implants, and breast reconstruction products.
Skincare products reported a 51.9% rise in YoY revenue to $4.1 million.
Regenerative medicines reported a 30.6% rise in revenue to $4.7 million.
Body contouring products reported a 36% rise in revenue to $30.9 million.
Botox therapeutics and other products, including Asacol and Constella, reported a 10.3% rise in YoY revenue to $166.6 million.
The First Trust NASDAQ Pharmaceuticals ETF (FTXH) holds 2.5% of its total investments in Allergan, 3.6% in AbbVie (ABBV), 3.7% in Mylan NV (MYL), and 4.0% in Johnson & Johnson (JNJ).