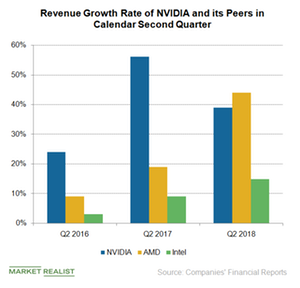 Accelerated Computing Boosts NVIDIA's Revenue Growth Rate
By Puja Tayal

Aug. 7 2018, Updated 3:15 p.m. ET
Accelerated computing
NVIDIA's (NVDA) high-growth phase started in 2016 when its general-purpose GPUs (graphics processing unit) were recognized in applications other than gaming.
At Evercore ISI's Autonomous Driving, AI & Mobility Forum, NVIDIA's vice president of accelerated computing, Ian Buck, explained that the end of Moore's Law—which states that a CPU's (central processing unit) performance improves every two years with an increase in the number of transistors—paved the way for GPU computing.
Article continues below advertisement
Buck stated that as it became more difficult to increase the number of transistors, CPU makers Intel (INTC) and Advanced Micro Devices (AMD) started increasing their core counts to improve performance. More cores allow a computer to go parallel and perform multiple tasks simultaneously. Buck stated that NVIDIA had started with parallel processing, which takes the available transistors in a CPU and applies them to more cores, thereby accelerating computing.
This concept of parallel computing is being adopted by more and more industries, thereby driving NVIDIA's growth.
NVIDIA's revenue trend
As we can see in the graph above, NVIDIA's YoY (year-over-year) revenue growth rate more than doubled from 24% in the second quarter of 2016 to 56% in the second quarter of 2017 as it witnessed the increasing adoption of its GPUs in AI and gaming. However, this growth rate is expected to have slowed to 39% YoY to $3.1 billion in the second quarter of 2018 as Intel entered the AI space.
Competitors' revenue trends
Intel's revenue growth rate rose from 9% in the second quarter of 2017 to 14.9% in the second quarter of 2018 driven by strong demand in the data center space. On the other hand, AMD's revenue growth rate increased from 19% to 44% driven by strong demand in the PC space. 
AMD is still struggling to compete with NVIDIA in the AI space. Once AMD sets foot in the space, it will likely report strong growth.
Next, we'll look at NVIDIA's revenue by product.