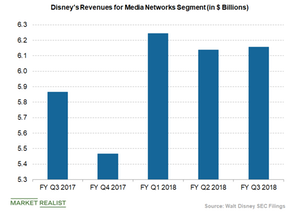 A Look at the Performance of Disney's Media Network Segment
By Sophia Nicholson

Aug. 14 2018, Updated 3:00 p.m. ET
Media Network's revenues in fiscal Q3 2018
Media conglomerate Walt Disney (DIS) reported revenues of $6.2 billion for its Media Network segment in the fiscal third quarter. These revenues increased 5.0% YoY (year-over-year) from its revenues of $5.9 billion in the fiscal third quarter of 2017. These revenues were driven by a robust 11.0% YoY increase in the broadcasting unit, as well as 2.0% growth in the cable network division.
Article continues below advertisement
Media Networks segment's operating trends
In the third quarter, Disney (DIS) posted a 1.0% decline in operating income in its Media Network segment. While its cable networks' operating income declined 5.0%, its broadcasting business rose 43.0% YoY in the quarter.
Losses at Disney's technology subsidiary BAMTech and decreases at its Freeform cable TV channel led to a decline in the cable network's operating income. The company's ongoing technology investments related to the launch of ESPN+ increased the costs at BAMTech. Freeform was negatively impacted due to higher marketing costs and lower advertising revenues resulting from a decrease in average viewership.
Operating income at the broadcasting unit increased ~43.0% to $361.0 million in the quarter. This growth was driven by higher program sales and affiliate revenue growth due to contractual rate increases. This growth was partially offset by higher programming costs. 
The company also witnessed an increase in network advertising revenues due to higher rates, which were partially offset by lower average viewership. The growing popularity of Internet TV services from Verizon's (VZ) Fios and AT&T's (T) DIRECTV NOW resulted in higher affiliate revenues.