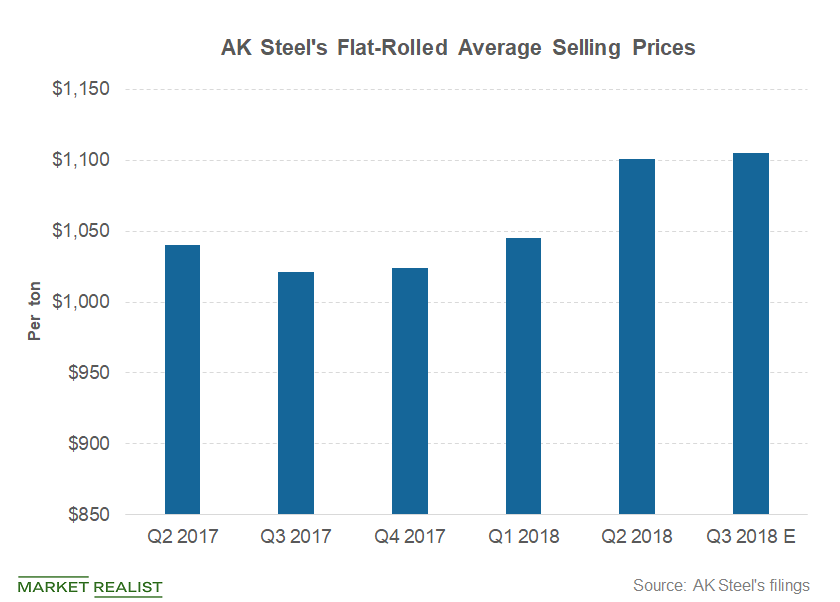 A Look at AK Steel's 2019 Automotive Contracts
By Mohit Oberoi, CFA

Aug. 2 2018, Updated 10:31 a.m. ET
AK Steel
During AK Steel's (AKS) second-quarter earnings call on July 31, questions about its 2019 automotive contracts were prominently featured. Most of AK Steel's automotive business focuses on contract sales, and most of these contracts are reset at the beginning of the year.
Roger Newport, AK Steel's CEO, noted during the company's earnings call, "About 75% of our annual automotive volume will be negotiated prior to year-end, which should further enhance our 2019 performance. The current market conditions provide a solid foundation for kicking off our contract negotiations, and we expect to achieve positive results as we reset those contracts for the coming year."
Article continues below advertisement
While most of these contracts are for 2019, AK Steel is also expected to benefit from higher resets in the fourth quarter. In response to an analyst's question during the call, Kirk Reich, AK Steel's president and COO, noted, "As far as the resets, about 20-plus percent, almost 1/4 of our business, will reset at the end of the third quarter of this year. And then another 50-a-little-more-than-that percent resets at the end of the year and then the balance either at the end of the first quarter or kind of throughout the year."
Equity issuance
A possible equity issuance was another dangling sword for AK Steel investors. However, the company virtually ruled out the equity issuance. AK Steel expects to fund its Precision Partners acquisition, which it initially funded with its revolving credit facility, with its organic cash flows. The company repaid $70.0 million of debt in the second quarter from its free cash flows.
Among the other steel companies (XME), U.S. Steel Corporation (X), Nucor (NUE), and Steel Dynamics (STLD) are expected to post strong cash flows in 2018 on higher steel prices.
Although AK Steel's second-quarter earnings miss is a short-term setback, its medium-term story looks intact on its 2019 contract resets. Please read Has AK Steel Stock Bottomed Out? for a detailed analysis of AK Steel's drivers.