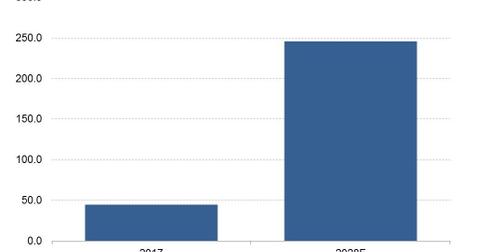 Why Sony Joined AT&T in Raising Streaming Service Fees
By Ruchi Gupta

Updated
Vue's price is up $5.0
Sony (SNE) has joined other streaming video providers in raising its service price. Sony's PlayStation Vue's price is rising $5.0 per month, meaning that the cheapest plan will now cost $44.99 per month compared to $39.99 previously. The most expensive Vue plan will cost $79.99 per month.
Sony said it decided to hike Vue prices to allow it to cover rising business costs. The company intends to continue improving the service with more content and channels to make it more attractive in the crowding space of streaming video services. The Walt Disney Company (DIS) is expected to add to the competition in the streaming service market with the launch of its Netflix-like streaming services next year.
Article continues below advertisement
Google and Amazon have also hiked their service prices
But Sony is far from being the only streaming provider to have recently raised the price for its services. Sony hiked Vue's price the same day AT&T (T) also raised the cost of DIRECTV NOW by $5.0 per month. Just a few days earlier, we saw Dish Network (DISH) hike the price of its Sling TV plan that includes ESPN by $5.0 per month. Back in February, Google (GOOGL) announced new higher prices for YouTube TV.
In April, Amazon (AMZN) also raised the price of its Prime membership to $119 per year from $99 per year to allow it to cover rising costs. A Prime membership package includes a streaming service akin to Netflix.
$245.8 billion revenue opportunity
Sony's Vue, Dish's Sling TV, AT&T's DIRECTV NOW, and similar services are vying for the $245.8 billion revenue opportunity in the over-the-top video market, according to estimates by Future Market Insights.