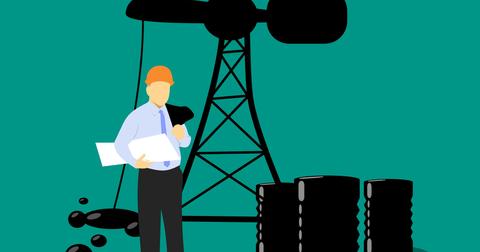 Why Halliburton's Q2 2018 Earnings Narrowly Missed Estimates
By Alex Chamberlin

Updated
Halliburton's Q2 2018 revenue
Halliburton (HAL) released its Q2 2018 financial results today. The company recorded total revenues of ~$6.15 billion in Q2 2018, up 24% from its ~$4.96 billion in Q2 2017. Halliburton's revenues for Q2 2018 increased mostly due to higher onshore pressure pumping activity in the United States and Europe/Africa/CIS (the Commonwealth of Independent States) as well as higher sales of HAL's completion tool in the Middle East.
Compared to Q1 2018, Halliburton's revenues increased 7.1%. The Q2 2018 revenue for Schlumberger (SLB), HAL's larger-market-cap peer, increased 6.1% sequentially. Read more about SLB's Q2 2018 earnings in Market Realist's Schlumberger Reports Q2 2018 Earnings, Beats Estimates.
Article continues below advertisement
Halliburton's Q2 2018 earnings
The Q2 2018 adjusted earnings per share for Halliburton came in at $0.580. This number marginally missed the consensus sell-side analysts' earnings estimate of $0.582 by 0.3%.
Compared to Q2 2017, HAL's Q2 2018 earnings more than doubled. A stronger year-over-year operating margin in both the Drilling & Evaluation and Completion & Production segments led to the earnings improvement. Partially offsetting the improvement were lower completion tool sales and pressure pumping services in some of HAL's international operations. On average, adjusted EPS have exceeded consensus EPS by ~22% over the past 13 quarters.
How did Halliburton fare in 6M 2018?
In the first six months of 2018, Halliburton's revenues increased 28.7% compared to the first six months of 2017. In the first half of 2018, its reported net income jumped to $557 million, compared to a $4 million net loss a year ago. HAL's 6M 2018 net income was reduced by $265 million in impairment and other non-recurring charges, compared to $262 million of similar charges a year ago.
Analysts' estimates for HAL's peers