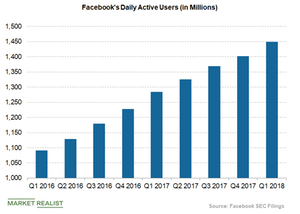 Why Did Facebook Lift Its Ban on Some Cryptocurrency Ads?
By Sophia Nicholson

Nov. 20 2020, Updated 2:35 p.m. ET
Facebook reverses its ban on (some) crypto ads
Facebook (FB) is lifting its ban on ads for some cryptocurrencies, such as Bitcoin. The social media giant will now allow some advertisers that it approves through an application process to promote crypto businesses and services. However, ads promoting binary options and ICOs (initial coin offering) are still banned.
Now advertisers who want to promote crypto businesses or services will have to show the proper licenses related to trading on a public stock exchange or another relevant public background on their business to receive Facebook's permission to run crypto ads.
Article continues below advertisement
Why was it banned?
Facebook banned all crypto ads on its service platform back in January amid the Bitcoin price surge, which reached close to $20,000, leading some businesses to capitalize by promoting scams. Hence, Facebook banned crypto ads so that its users would be protected from misleading or deceptive promotional practices. Google (GOOGL), Twitter (TWTR), and Snapchat (SNAP) also banned crypto ads.
Facebook is making efforts to build users' confidence
Facebook has been making efforts to build back users' confidence in the platform after the Cambridge Analytica scandal, which compromised the data security of ~87 million people. The data breach issue, along with other events related to fake Russian accounts leading up to the US presidential election, has raised concerns related to Facebook's business operations.
Facebook has been trying to make its platform more secure and is spending billions on ensuring the security of users' data. In fact, Facebook has remained quite successful in winning people's confidence, as is evident from the company's revenue growth and active user base.
Facebook delivered strong results in the first quarter and posted revenue growth of 49% year-over-year. Facebook has a total of ~2.2 billion monthly active users, with ~1.4 billion being daily active users as of the end of the first quarter.