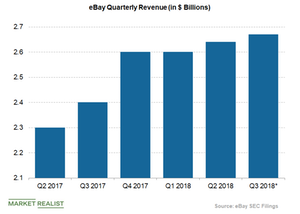 Why Did eBay Lower Its Fiscal Guidance?
By Sophia Nicholson

Dec. 4 2020, Updated 10:53 a.m. ET
eBay posted mixed results
In the second quarter, eBay (EBAY) reported earnings of $0.53 per share, which topped analysts' expectations of $0.51 per share. eBay's earnings rose 17.7% YoY (year-over-year) from the same quarter in 2017. The earnings were driven by a 9% increase in the top line and 25.2% operating margin growth. Earnings surpassed the high end of the company's forecast of $0.50–$0.52 per share.
Revenues of $2.64 billion grew 9.1% YoY in the quarter but missed analysts' estimates of $2.67 billion. The top line was at the lower end of the guidance range of $2.64 billion–$2.68 billion. On a constant currency basis, eBay's revenues increased 6% YoY in the quarter—weaker than 7% growth in the first quarter. The revenues were at the low end of management's guidance range of 6%–8% revenue growth.
Article continues below advertisement
Concerns over revenue growth
eBay's sluggish revenue growth was due to lower ticket sales. Ticket sales aren't expected to improve in the second half of the year. The company also faces intense competition from Amazon (AMZN), Alibaba (BABA), and JD.com (JD). The companies have a leading presence in the e-commerce space and earn most of their revenues from online selling. Walmart (WMT) is also adding to the pressure by enhancing its digital shopping options.
Lowered guidance
The decelerated revenue growth in the second quarter put pressure on management to deliver targets. The company reduced its expectations for the fiscal year. For fiscal 2018, eBay projects earnings of $2.28–$2.32 per share. eBay expects fiscal revenues of $10.75 billion–$10.85 billion—down from the earlier forecast of $10.9 billion–$11.1 billion. eBay also lowered the outlook for its fiscal revenue growth on a currency neutral basis. Management expects currency neutral revenue growth of 6%–7%—down from the previous forecast for 6%–8% growth.
For the third quarter, eBay expects to deliver adjusted earnings of $0.54–$0.56 per share and projects revenues of $2.64 billion–$2.69 billion.