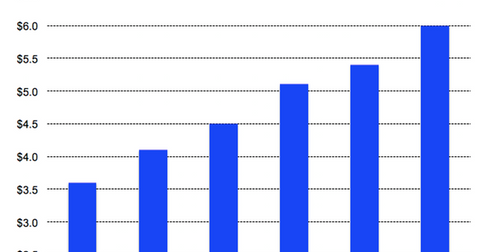 Why Amazon Web Services Is Still King
By Sanmit Amin

Updated
The cloud sector continues to grow at a breakneck speed
Amazon (AMZN) and Microsoft (MSFT), the biggest players in the cloud-computing business, announced their earnings recently. The takeaway from those reports was that the cloud business continues to grow robustly. Amazon's cloud business, AWS (Amazon Web Services), saw its revenue growth accelerate in the second quarter. AWS's revenue grew 49% YoY in second quarter to reach $6.1 billion.
Meanwhile, Microsoft (MSFT) saw its Azure revenue grow 89% YoY in the second quarter, which was slightly slower than the 93% growth it saw in the first quarter. Microsoft doesn't break down its Azure revenue.
Article continues below advertisement
AWS still corners a lion's share of the cloud market
According to a recent report by Synergy Research, Amazon, the market leader in the segment, gained market share in the second quarter, and now has a share of 34%.
Amazon remains a dominant player in the segment. The report points out that AWS is still bigger than the cloud businesses of its next four competitors, Microsoft, Google (GOOG), IBM (IBM), and Alibaba (BABA) combined. They had market shares of 14%, 6%, 8%, and 4%, respectively, in the second quarter of 2018. The top five cloud players all gained market share in the second quarter.
These growth numbers suggest that the cloud-computing sector could have several years of growth left in it as enterprises move increasingly more of their workloads to the cloud.
AWS has a clear first-mover's advantage with the others playing catch up. The top cloud companies continue to throw capital into data center infrastructure.