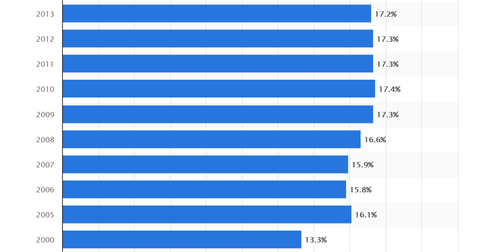 Why Amazon Is Keen on the Healthcare Space
By Anne Shields

Updated
Amazon's increased interest in healthcare
Earlier, we discussed Amazon's (AMZN) recent billion-dollar acquisition of PillPack. With the PillPack acquisition, Amazon has made its foray into the pharmacy and drug delivery space. However, this move wasn't exactly out of the blue.
In late 2017, Amazon received wholesale pharmacy licenses in 12 states—Alabama, Arizona, Idaho, Connecticut, Louisiana, Nevada, Michigan, Oregon, New Jersey, New Hampshire, North Dakota, and Tennessee—as reported by St. Louis Post-Dispatch.
In January, Amazon, Berkshire Hathaway (BRK.B), and JPMorgan Chase (JPM) announced the formation of a new healthcare company for their employees to tackle rising healthcare costs.
According to a press release, the company's goal would be to create "technology solutions that will provide U.S. employees and their families with simplified, high-quality and transparent healthcare at a reasonable cost."
The release continued, "The three of our companies have extraordinary resources, and our goal is to create solutions that benefit our U.S. employees, their families and, potentially, all Americans."
Article continues below advertisement
Rising healthcare costs are a drag on US competitiveness
The above presentation by Statista shows that US national healthcare expenditure as a percentage of GDP hovered around 5% in the 1960s, grew to over 13% in the 2000s, and has now exceeded 18%. In comparison, a developed country such as Canada spends 10% of its GDP on healthcare.
Warren Buffett, CEO of Berkshire Hathaway, has been critical of rising healthcare costs for a long time, believing they have hurt American competitiveness. He said, "The ballooning costs of healthcare act as a hungry tapeworm on the American economy."