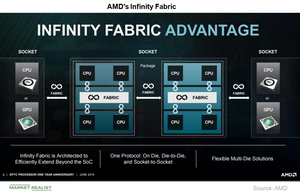 What's AMD's Product Execution Strategy?
By Puja Tayal

Nov. 20 2020, Updated 4:13 p.m. ET
Beyond Moore's Law
Moore's Law, in which every node shrink improves performance and efficiency, is slowing, and the growing demand for efficiency and performance has called for the need to go beyond Moore's Law. Advanced Micro Devices (AMD) and Intel (INTC) are doing so using heterogeneous computing. AMD uses Infinity Fabric technology that interconnects its CPUs (central processing units), GPUs (graphics processing units), I/O (input/output) path, and memory.
Article continues below advertisement
At the Cowen Technology, Media & Telecom Conference, AMD's chief technology officer, Mark Papermaster, stated that the company is using Infinity Fabric for two cases. In the first case, AMD is using Infinity Fabric to leverage its Zen cores across low, mid, and high-end desktops, servers, and notebook CPUs, all of which have different performance and power requirements.
In the second case, AMD is using Infinity Fabric to leverage its CPU and GPU technology with HBM (high-bandwidth memory) to bring scalability, reduce latency, and improve performance. AMD's upcoming seven-nm Rome server processor is an example of this multi-die approach.
AMD's product execution strategy
AMD has also developed a strong product execution strategy that keeps it on track with its CPU roadmap. Mark Papermaster stated that five years ago when AMD decided to return to the high-performance market, it wanted to design scalable products on which it can build a future roadmap. To get this roadmap into execution, AMD implemented leapfrog design teams.
While one team focused on developing the Zen architecture, another team started conceptualizing Zen 2. When the complete Zen product suite hit the market, the sampling of Zen 2 was completed and Zen 3 went beyond the concept phase. This helped AMD successfully implement its CPU roadmap. It followed a similar strategy for its GPU roadmap, but the roadmap is facing delays. Next, we'll see how AMD is leveraging its Infinity Fabric technology to tap the high-end PC market.
Check out all the data we have added to our quote pages. Now you can get a valuation snapshot, earnings and revenue estimates, and historical data as well as dividend info. Take a look!