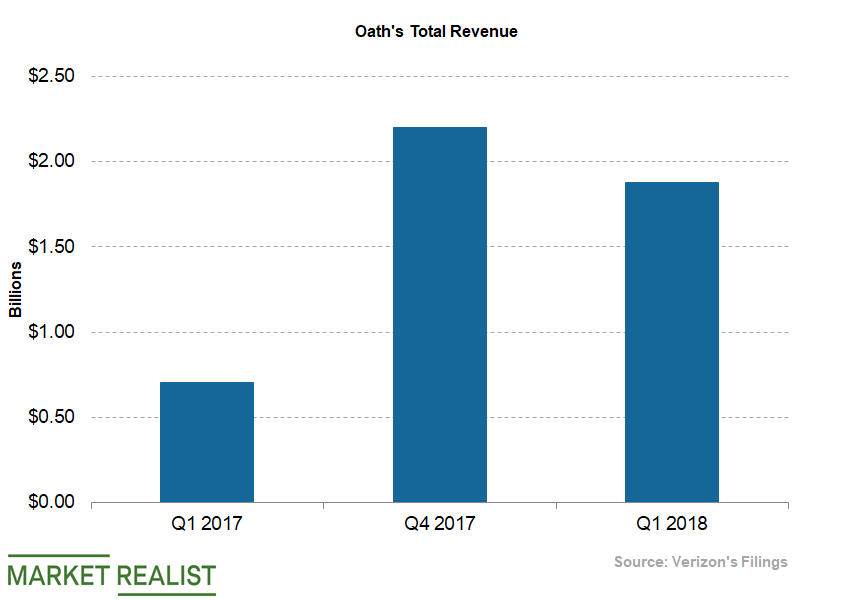 What Opportunities Does Oath Offer Verizon?
Verizon focuses on digital media investments
Currently, Verizon's (VZ) priorities are investing in digital media assets and 5G (fifth-generation) services. In the digital media space, it's busy building its Oath subsidiary, which is competing against Alphabet's (GOOGL) Google and Facebook (FB) for digital media advertising dollars.
In the first quarter, Verizon's Oath division posted gross revenues of $1.9 billion, excluding the impact of the revenue recognition standard. Oath's gross revenues fell 13% sequentially to $2.2 billion due to seasonally lower display advertising performance. Oath is Verizon's digital media and advertising arm. It consists of Yahoo and AOL assets, which Verizon acquired for nearly $10 billion.
Verizon's management noted that Oath is aiming to generate $10 billion–$20 billion in annual revenues by 2020, from $7 billion currently.
Article continues below advertisement
Digital advertising revenues
Based on market intelligence company eMarketer, Google's digital ad revenues are projected to grow 14.5% YoY (year-over-year) to $39.9 billion in 2018. Facebook's US ad revenues are forecast to grow 16.9% YoY to $21 billion in 2018. Total US digital ad spending is poised to grow 6.6% YoY to $221 billion in 2018.