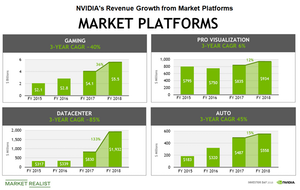 What Does TSMC's 2018 Guidance Say about NVIDIA?
By Puja Tayal

Updated
TSMC and NVIDIA
Taiwan Semiconductor Manufacturing Company's (TSM) second-quarter earnings fell largely due to seasonal weakness in the smartphone market and a significant fall in cryptocurrency.
TSMC is increasing its exposure to HPC (high-performance computing) as the smartphone market matures. Its key customer in HPC is NVIDIA (NVDA). It manufactures NVIDIA's GPUs (graphics processing unit) for the cryptocurrency, gaming, AI, and automotive markets.
Article continues below advertisement
TSMC's guidance for GPUs
On the company's second-quarter earnings call, its CEO, C. C. Wei, stated that its 2018 revenue would be driven by strong chip demand in the smartphone, HPC, IoT (Internet of Things), and automotive electronics markets. He stated that the company's HPC revenue would rise 40% YoY (year-over-year) and account for 25% of its revenue in 2018.
In dollar terms, TSMC expects its 2018 revenue from HPC to rise by $2.6 billion to $8.7 billion. Within HPC, TSMC expects strong demand for AI accelerators, GPUs, and CPUs (central processing unit) used in data centers and gaming.
This guidance shows strong orders for NVIDIA's Volta GPUs in the data center space, and it also includes new orders for Advanced Micro Devices' (AMD) 7 nm (nanometer) Vega GPUs and 7 nm EPYC server CPUs. But the company's gaming GPUs are what have analysts so interested. TSMC stated that the second half of 2018 would include the next-generation gaming GPU of one of its clients.
Rumors surrounding NVIDIA's next gaming GPU
According to a DigiTimes article, NVIDIA's next-generation gaming GPU built on the Turing architecture will contribute to TSMC's revenue in the second half of 2018. However, NVIDIA has made no official announcement about this gaming GPU. In fact, a Forbes article reported that NVIDIA's CEO, Jen-Hsun Huang, clarified at Computex 2018 that the company would not launch its next-generation gaming GPU until "a long time from now."
While TSMC's guidance does not clearly state whether the next-generation GPU is NVIDIA's, it does indicate that chip companies expect strong demand in the data center and gaming markets during the holiday season.
Next, we'll look at TSMC's guidance for semiconductor equipment.