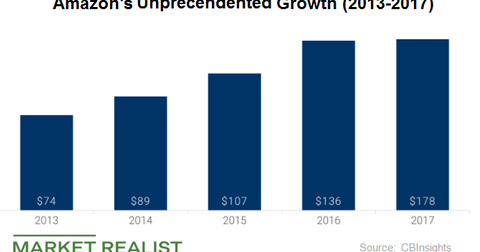 What Amazon's Acquisition Spree Says about the Company
By Anne Shields

Updated
Amazon's acquisitions reflect its diverse interests
Several of Amazon's (AMZN) acquisitions have reflected the company's diverse business interests.
With LoveFilm, Twitch, and Audible, Amazon has targeted the media and content spaces.
With Elemental Technologies, Amazon has focused on the streaming infrastructure space.
With Souq, Quidsi, and Zappos, Amazon has focused on the e-commerce space.
With Annapurna Labs, Amazon has targeted the computing hardware space, while Kiva Systems has given Amazon a footprint in the robotics space.
With Ring, Amazon has entered the smart home space, while its recent acquisition of PillPack has given it entry into the direct-to-consumer prescription pill healthcare space.
Amazon is the biggest US online retailer and is now present in the retail, consumer technology, logistics, cloud computing, and media and entertainment spaces. This could be the reason for Amazon's diverse set of buyouts and its success in the retail space. According to CBInsights.com, Amazon accounts for ~44% and 4% of all e-commerce and retail spending in the United States, respectively.
Article continues below advertisement
Amazon's growth is expected to be higher than its peers'
Amazon has benefited from economies of scale as well as network effects. Economies of scale provide cost efficiencies to retailers and e-commerce companies where price is a differentiating factor.
In the case of Amazon Web Services, the more companies that subscribe to it, the more it is used and the more developers know how to use it, providing Amazon with more data for optimization and consequentially making it more attractive.
Citing Morgan Stanley's (MS) estimates, the Economist wrote that Amazon's revenue is expected to grow at a compound annual growth rate of 16% from 2016 through 2025—higher than the estimates for its peers Google (GOOG) and Facebook (FB).
The research house has also set a price target at $2,000 per share, which will make the company's market cap exceed $1 trillion within a year, adding, "If Amazon were to pull it off, it would be the most aggressive expansion of a giant company in the history of modern business."