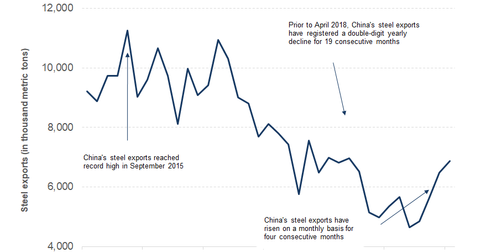 US Steel Industry Outlook: Is the Glass Half Full or Half Empty?
By Mohit Oberoi, CFA

Updated
US steel industry outlook
In this article, we'll look at the steel industry's outlook for the second half of 2018. Despite US steel prices hovering at almost a decade high, we haven't seen a commensurate rise in steel companies' stock prices.
U.S. Steel Corporation (X) and Nucor (NUE) were almost flat in the first half of 2018, and AK Steel (AKS) lost 23.3% in that timeframe. Let's see what factors could influence US steel prices in the second half of 2018.
Article continues below advertisement
China's steel exports
We've seen a rise in Chinese steel exports over the last couple of months. If we see a further rise in Chinese steel exports in the coming months, it could depress global steel pricing.
It's crucial to watch the expected trade deflection after the Section 232 tariffs. Notably, the European Union has seen an increase in steel imports this year. According to Eurofer (European Steel Association), the rise in imports is due to Section 232 tariffs in the United States, which is resulting in this import deflection.
Trade war
The US–China trade war concerns have already taken a toll on Chinese steel prices. It's important for steel investors to watch for any escalation in this trade war. If we see a further correction in Chinese steel prices, it could have a ripple effect on global steel prices.
Looking at domestic factors, the Section 232 exemptions and quotas could drive US steel prices. It would be interesting to see the findings of the United States Commerce Department's probe into the market participants that are allegedly "illegitimately profiteering." At some point, the Commerce Department would have to heed the downstream steel–consuming industry's concerns.
We should also see an increase in US steel production later this year as U.S. Steel's Granite City blast furnace comes online. Later in this series, we'll perform a detailed analysis of how these factors could impact US steel prices in the second half of 2018. Let's begin by analyzing how higher Chinese steel exports could impact US steel prices.