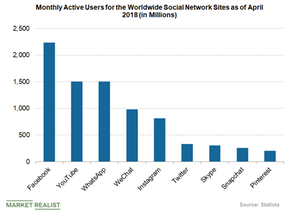 Understanding How Facebook's 120 Million Users' Data Got Exposed
By Sophia Nicholson

Updated
Facebook's 120 million users at risk
Facebook (FB) has again been found to have leaked user data, this time through a quiz service site. Facebook claimed it deleted the service after its internal audit, which was conducted to meet the standards of the European Union's General Data Privacy Regulation (or GDPR).
The issue was reported by TechCrunch, which said that NameTests.com, a developer of Facebook quizzes, had been extracting user data over the years by way of several general questions. It reportedly used data from 120 million accounts.
Article continues below advertisement
How the quiz service data use was discovered
NameTests' data use was detected by hacker Inti De Ceukelaire, who found that the app was storing personal details in a javascript file. NameTests did not create a logout system. As a result, the app could send or possibly sell the data obtained from Facebook users or their friends to third-party services. To remove their disclosed data to the quiz site, Facebook users would have to clear the cookies on their Internet browsers.
Facebook has been trying to secure its platform and close down all doubtful accounts after the Cambridge Analytica scandal that surfaced in March. The company created a data abuse program called Facebook's Bug Bounty Program, which allowed developers like De Ceukelaire to keep check on apps and services that consume a high amount of user data. These developers also check services that have supplied data to various political agencies that could have used the data during the 2016 US presidential election campaigns or perhaps polls in India.
Most popular social network
It's crucial for Facebook to become more transparent about its data-sharing policies and secure its platform to bring back user confidence. Facebook is the most popular social media network, used worldwide by 2.2 billion users as of April. Alphabet's (GOOGL) online video streaming service YouTube has 1.5 million active users, while Twitter (TWTR) and Snapchat (Snap's (SNAP) messaging app) have 330 million and 255 million monthly users, respectively.