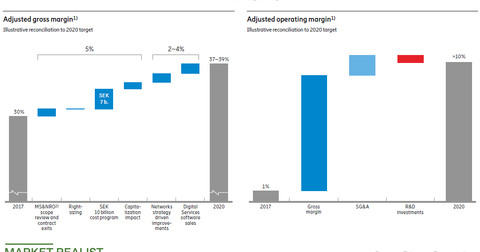 These Efforts Will Help Ericsson Reduce Costs, Improve Efficiency
By Adam Rogers

Updated
Ericsson aims to be cash flow positive
Earlier in this series, we learned that Ericsson (ERIC) wants to expand its operating and gross margins over the next few years. Ericsson's long-term ambition is to reach below 100 working capital days compared to the 105 days it had in 2017.
With a focus on cost reductions as well as discipline toward capex and mergers and acquisitions, Ericsson aims to drive positive free cash flow.
Article continues below advertisement
Simplified company structure
Ericsson has prioritized profitability and return on capital over revenue growth. The company has outlined several efforts by which it will reduce costs and improve efficiency. These efforts include the creation of a simplified company structure and organization with a focus on accountability and strong governance.
Last year, Ericsson identified 23 contracts in Managed Services that the company exited, renegotiated, or transformed. In January this year, Ericsson concluded the strategic review of its Media business. Ericsson has partnered with private equity company One Equity Partners to form an independent company. Ericsson will own 49% of this entity.
We also know that Ericsson had targeted cost reductions amounting to 10 billion Swedish kronor by mid-2018. Ericsson achieved an annual net savings run rate of 6 billion kronor by the end of 2017. Over 50% of this 10 billion kronor cost reduction has been attributed to service delivery costs.
Ericsson's head count reduction in the service delivery vertical was 7,700 last year. IT costs, indirect spending, and supply account for 30% of Ericsson's cost reduction target. Last year, Ericsson identified several sites to be closed down. The 20% cost reduction relates to support functions where the company reduced its general and administrative head count by 1,100 last year.
Restructuring charges continue to affect the company's profitability. Last year, restructuring charges amounted to 8.5 billion kronor, and this year, the company has estimated charges of between 5 billion and 7 billion kronor.
Ericsson is looking to invest in research and development to gain cost leadership and expand its gross margins. In the digital services space, the company is looking to shift toward software-led solutions, which should help it improve its profit margins.